What's in Your Lungs?
Find out right now!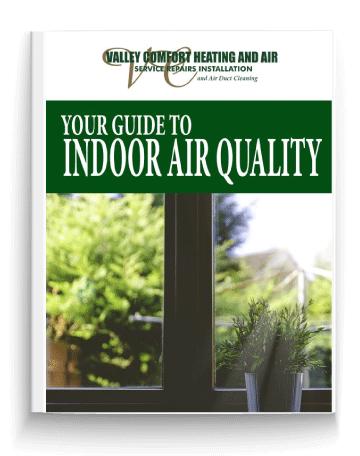 Indoor Air Quality Guide:
Indoor air quality is a major concern for individuals as well as the U.S. Environment Protection Agency, which puts it among its top three health concerns. In fact, the EPA estimates that the indoor air of our homes and offices is as much as five times as dirty as the air outside thanks to skin flakes, dust, pollen, mold, cigarette smoke, chemicals, and more. OSHA has linked air quality to trouble concentrating, headaches, and fatigue as well as to nose, eyes, lungs, and throat irritation as well as. Poor air quality also can worsen diseases such as asthma.
What's in your air?
Read this free guide to learn more about the health benefits of high quality indoor air.
We respect your privacy and will not share your information.
At Valley Comfort Heating and Air, our technicians are experts in diagnosing indoor air quality problems and finding the most cost effective way of resolving them. They are aware that today's homes can present any number of issues because they are better-insulated and air-tight than ever before. This means pollutants and irritants can stay indoors and be re-circulated over and over again.