AC Preventative Maintenance: How to Make It Affordable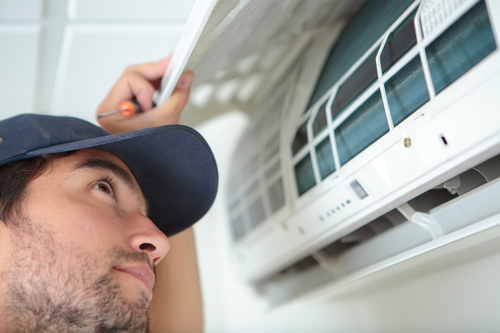 Your air conditioner is one of the most important appliances in your home, especially when the hottest months of the year arrive. When the sun starts beating down on you, you'll want to make sure that you have an AC you can trust to function without breaking down or running inefficiently. The trouble for many people is that having work done on your air conditioner can cost a lot of money. Repairing a broken or malfunctioning unit isn't the only instance when you might find yourself going over budget, either—even AC preventative maintenance can be quite pricey.
Here's the good news: while preventative maintenance for your air conditioner can be expensive, it doesn't have to be. By following a few simple strategies, you can keep your costs down while maintaining your AC in good shape—which in turn can lower the risk of a major malfunction and save you money you might otherwise spend on more complicated repairs. In the following paragraphs, we'll look at the most cost-effective ways to keep your air conditioner in good shape without spending too much. Here are a couple of sure-fire ways:
Use Your AC More Effectively and Save Money for Maintenance
Most people don't realize that they could be using their air conditioners more adequately, and a good number of AC owners run their systems in such a way that they end up overpaying on their energy bills. This is because a lot of HVAC system owners have a limited understanding of the factors that affect utility bills in their regions—including peak rates for energy providers.
The truth is that most A/C owners use their air conditioners during the same narrow window of time each year. As a result, most air conditioners are running when overall demand for power is already high. The result is that power companies must spend more resources trying to meet this demand and consequently, hike their prices during those periods.
How can you make this work to your advantage? There's one easy thing you can do, and that's ensuring your A/C is off any time you leave the house during those hot months. Be sure to keep your ventilation fans running while you're gone so that cool air can still circulate throughout the home. If you have a programmable thermostat, you can also set it to turn on just before you plan to return. You might also consider running your air conditioner at off-peak hours and then rely on fans to circulate cool air during periods of escalated usage.
Put Your A/C in a Shaded Area
Preventative maintenance goes beyond DIY fixes and careful usage. Even seemingly insignificant factors like where you install your A/C can have a significant impact on its efficiency and lifespan.
Try to have your air-conditioner mounted in a shady place. This can save up to 5% more energy than an A/C located in direct sunlight, and prevent your air conditioner from having to work as hard.
Other Quick and Cheap Maintenance Tips
Once you've made sure your A/C is in a proper place, and you're using it advantageously, there are some simple things you can do yourself to keep it running optimally. Firstly, you'll want to regularly check the unit to make sure that it isn't being clogged up by leaves, pollen or grass. There should always be at least two feet of clearance around any air conditioning unit located outside. It doesn't cost anything to clear debris away from your system, and it will save you the costs of having it removed from your system by a professional once it gets stuck inside and causes problems.
Also, the installation of a high-efficiency pleated filter is another excellent way to keep bacteria and other small forms of debris from entering your system and causing damage. In any case, you should be checking your filter once every 90 days or so to make sure it isn't dark or full of dirt and debris. Pet owners should be even more diligent, replacing their filter monthly.
All the above strategies are excellent ways to increase the longevity of your HVAC system and to make sure you're using it efficiently. Remember: at some point, every air-conditioner is going to need some professional maintenance, but the longer you can keep it running yourself the more money you can save on repairs. Additionally, running your A/C efficiently will help you save up enough to mitigate the costs of any maintenance you can't do on your own. Use both strategies, and you'll find that maintaining your HVAC system is a breeze. Contact us for more information.