Heating System & Furnace Repair and Installation
A/C Maintenance, Repair & Installation
Air Duct Maintenance, Repair & Installation
Get Your Questions Answered
Sonoma, Napa and Marin Counties
(707) 800 – 6287
The Valley Comfort Difference

Experienced
Our professionals are trained to tend to complex, commercial systems with attention and care..
Reliable
Owner, Bryan Simnings strives to build long-lasting relationships with his customers while delivering excellent service.

Available
We are happy to answer your questions and assist your HVAC system every day of the week.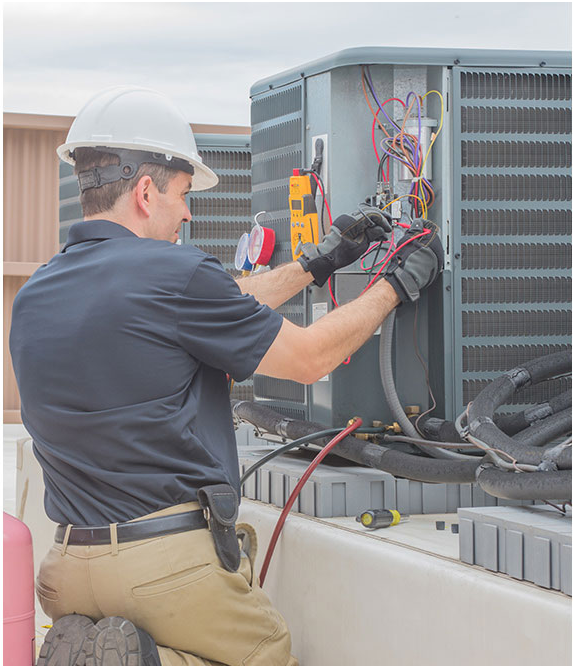 Commercial HVAC Systems: The Essentials
Without modern commercial HVAC systems, workplaces would be hot and sweaty during the summer and cold during the winter. Fortunately, HVAC solutions give you the power to set a precise temperature inside your building, boosting productivity while keeping your workforce comfortable.
While most business owners have an HVAC system and know how to operate it, most people don't understand the inner-workings of the solutions or how they came to be. Similarly, many individuals don't know how to maximize the efficiency of their system or what's required to keep it in top condition. This in-depth guide will solve the confusion behind such queries and tell you everything you need to know about the modern HVAC system and will help you choose the most suitable product for your place.
1. What Is HVAC?
HVAC is an Acronym That Stands For:
Heating
Ventilation
Air Conditioning
There are systems purposed for either residential or commercial use, but the inner-working of each are quite different despite having similarities. An HVAC system is a major appliance designed to cool or heat an indoor space. It includes a control panel, or 'thermostat', that allows the user to select the desired temperature.
An HVAC System Improves the Air Quality Inside Your Property While Providing Comfort for Everybody Inside.
In addition to allowing you to maintain a comfortable environment with your desired temperature, HVAC solutions also filter and clean indoor air to maintain optimum humidity levels and keep you and your workers healthy. Primarily, an HVAC system improves the air quality inside your property while providing comfort for everybody inside.
2. What Is Commercial HVAC?
Commercial HVAC systems often work very differently to domestic alternatives. Depending on where you live in the world, you may not have an HVAC system that can both heat and cool your home.
For example, in Northern Europe, cold temperatures can persist year-round, meaning most residents only have a heating system. In persistently hot regions, such as South East Asia, there's no real need to have a system that provides heat: residents in such countries usually depend solely on cooling systems, or air conditioners.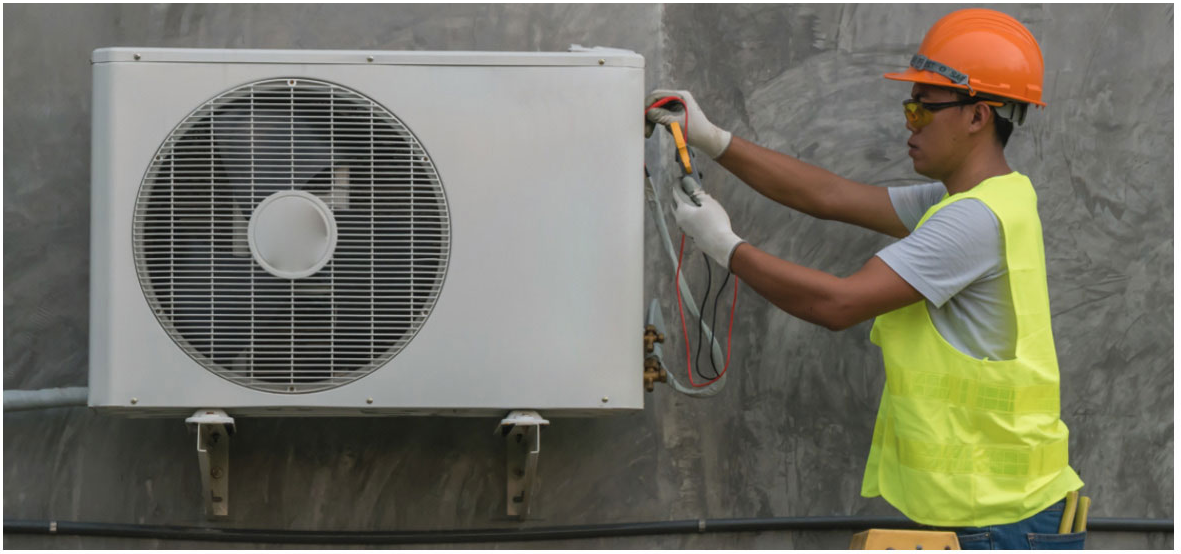 With regards to commercial purposes, HVAC systems that both cool and heat property interiors are present the world over. Even in cold countries, industrial work environments can be unbearably hot, often making working conditions unsafe. HVAC solutions may also be responsible for bringing fresh outdoor air inside to dilute or eliminate interior airborne contaminants, such as volatile organic compounds, chemicals used for cleaning, gases emitted from equipment or odors from occupants.
Commercial cooling systems are undeniably complex, designed not only to maintain an optimal indoor temperature but also to expel contaminated air via a filtration or exhaust system. The system takes in air from the outside to heat or cool the air to maintain a comfortable temperature, helping to managing energy. All HVAC solutions have essential components in common.
For Heating, the System Uses One of the Following:
The Systems Take in Air from the Outside to Heat or Cool the Air to Maintain a Comfortable Temperature, Managing Energy.
As a coolant, the system uses one of the following:
Chiller
Gas air conditioner
Electric heat
Ducted air or water systems
Ventilation system
In basic terms; there is an air handler component that extracts air from the outside and within the property, a process called mechanical ventilation. Once the air from outside is drawn into your HVAC system, it removes allergens, dust, dirt and other particles from the air. Then, the air is either cooledor heated before being directedinto your property, usually via a network of ducts in commercial settings.
Call Our Technicians for More Information About Your HVAC System.
Substantial size for a home.

Size
Larger; require more consumption of power

Placement
Placed on building's roof or swamp coolers
Suited to fufill needs of a family

Complexity
Must factor amount of occupants in building, size, and whether continuous use is required
Drains moisture to a single pan outside of property

Drainage
Utilize multiple pans & pipes to avoid overflowing and ensure efficient evaporation
Two parts; an indoor evaporator unit & outdoor unit

Mechanism
Interchangeable parts; parts are housed together
5. Installation and Replacement
A commercial HVAC installation improves employee productivity by enhancing indoor comfort while improving efficiency and decontaminating the air. Installations can differ depending on whether your HVAC system is for a new construction or a pre-existing building.
New Construction Installation
Your HVAC provider should design a system that will reduce your operating expenses and minimize future maintenance and repair requirements. They may need to work alongside your architect to design a system that's safe for your property. In some cases, it's necessary to alter the design of your building to accommodate an HVAC unit that is compliant with the law. Heating and cooling requirements can vary depending on your unique needs, such as how many occupants will be inside the building, whether it needs to be powered continuously, what kind of business you're operating, and the climate in your area.
Existing Structure Installation
Designing and installing an HVAC system for an existing structure can be just as complex as creating one for a new property because your contractor won't be able to work alongside architects and other tradespeople to alter the blueprints to accommodate your system. You may have to make certain modifications to your building to have a new HVAC system installed. Fortunately, there are many ductless systems available that can reduce the installation costs, though they're often less energy-efficient than alternative solutions. Regardless of which system you choose, you'll need to bear in mind
​energy-related code requirements​.
Commercial HVAC Replacement
Commercial HVAC systems can account for up to ​39% of your total energy usage​, even more, if you have an outdated system. You might assume an HVAC replacement is an expense you can't afford but installing or upgrading your system could save you a small fortune in the long run. You might want to opt for ​commercial rooftop HVAC units​ as they tend to be easier to access than those stored inside your building's roof, which means your ongoing maintenance costs will be more affordable. Before replacing your system, your HVAC contractor will perform an inspection to find out your current system requires. It may be the case that adjustments or improvements need to be made, or you might require a new system altogether, especially if your HVAC solution is no longer compliant with current energy code regulations.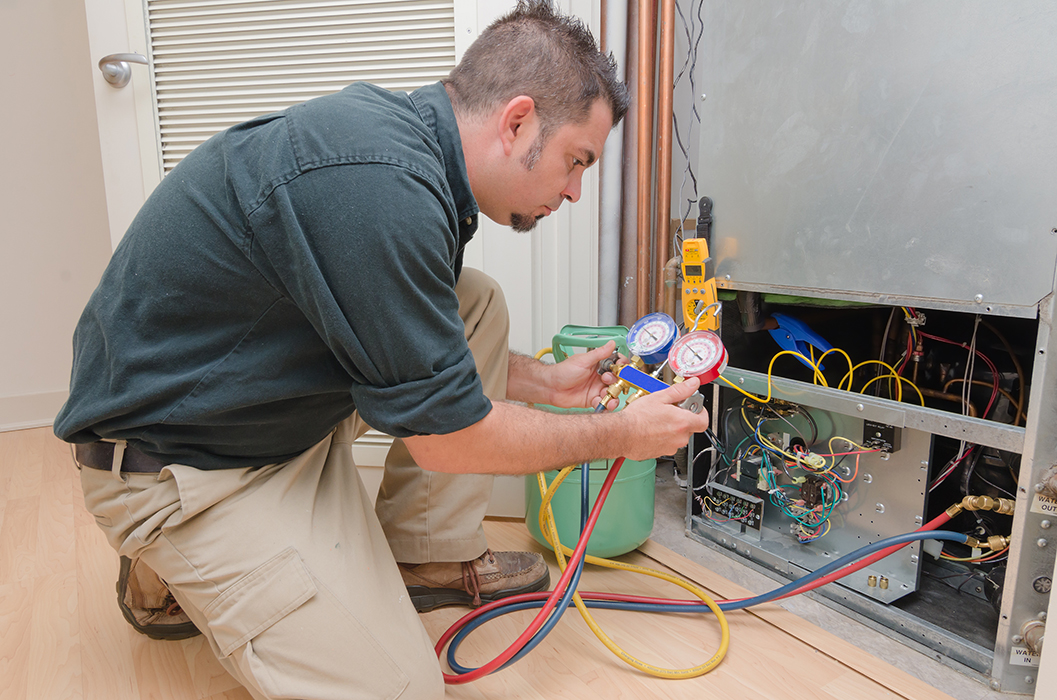 6. Commercial HVAC Replacement
Your HVAC system can account for up to 39% of your total energy usage, even more, if you have an outdated system. You might assume an HVAC replacement is an expense you can't afford but installing or upgrading your system could save you a small fortune in the long run. You might want to opt for commercial roof to HVAC units as they tend to be easier to access than those stored inside your building's roof, which means your ongoing maintenance costs will be more affordable.
Your HVAC system can account for up to 39% of your total energy usage,
even more, if you have an outdated system.
Before replacing your system, your HVAC contractor will perform an inspection to find out your current system requirements. It may be the case that adjustments or improvements need to be made, or you might require a new system altogether, especially if your HVAC solution is no longer compliant with current energy code regulations.
7. Commercial HVAC Design Considerations
As mentioned above,designing an HVAC solution for a commercial building, whether it's a school, hospital or industrial unit, is a complex process, and one that requires a qualified contractor's expertise.
COMMERCIAL
HVAC DESIGN FACTORS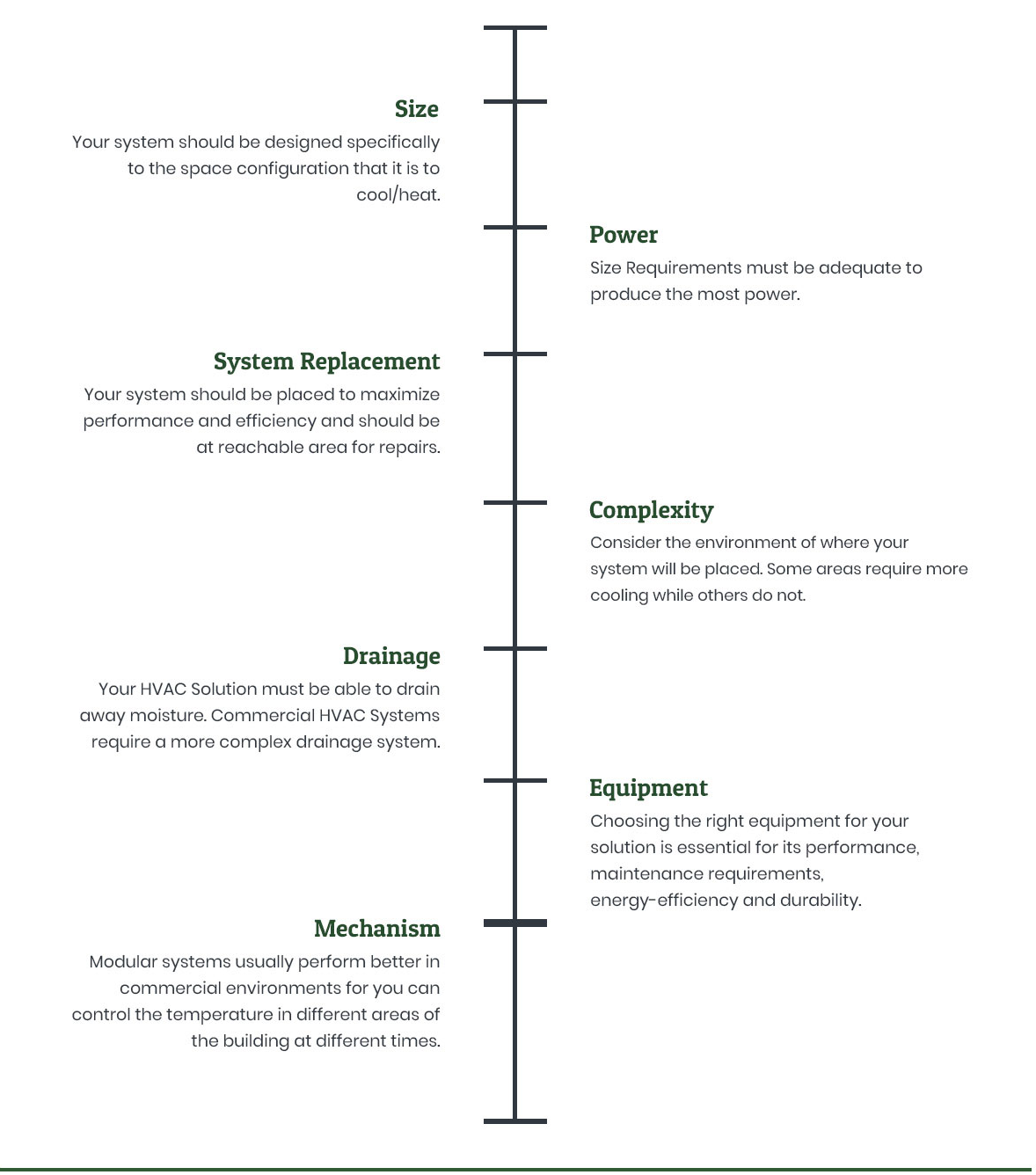 1. Size
It's essential to calculate the loading and size requirements of your HVAC system to ensure it works optimally. If the unit is too small or lacks power, it will fail to serve its purpose. Similarly, you don't want an oversized system because bigger is not better with regards to HVAC system design. Oversized systems will fail to produce adequately comfortable conditions inside your building because they tend to turn on and off continuously, never running for long enough to remove humidity efficiently. As a result, your building's interior could be clammy and riddled with cold and hot spots. In short, your system needs to be designed specifically to the space configuration that it is to cool and/or heat.
In most cases, your contractor will consider more than just the square footage of your property to design a suitable HVAC solution. They will likely use computer simulation tools that account for the materials used to build your property, average daylight hours, space activity patterns and lighting design.
2. Power
To produce the most power, your HVAC solution will need to be optimally sized to your building. The smaller the unit, the less power that your system will recieve.
3. System Placement
It's crucial for your HVAC contractor to find a suitable place to install your system, and that includes all its components, from the ductwork to the thermostat. You need your solution to be positioned not only to maximize its performance and efficiency but also ensure it's easy to access should it require repairs. In most cases, your contractor will design a system to place on the roof while ensuring the thermostat is within easy reach. Rooftop HVAC systems are usually the best option for commercial purposes.
However, there are other options available. Depending on your requirements, you might be better off with air conditioning units for individual rooms. In other cases, air-to-air heaters will be a better choice. Choose your contractor wisely, and you can feel confident the placement of your system will keep your running costs to a minimum while keeping your workplace comfortable and contaminant-free.
Our Technicians are Trained to Install Your System Correctly.
4. Complexity
To add to the complexity of HVAC design, your contractor should consider independently-controlled zones to craft a suitable solution. Even in open-plan environments, certain areas have different requirements to stay comfortable. For example, some areas may have special needs for humidity and temperature control, such as computer rooms or areas that contain industrial equipment. Also, areas such as conference rooms will require more cooling during large gatherings and less when the space is unoccupied.
5. Drainage
The system will probably require a complicated network of pipes and pans to achieve proper drainage. The last thing you want is water to overflow or freeze because rectifying such a situation can be expensive. If you're scouting around for an HVAC installer and want to ensure that they know their stuff, you might want to ask them about how they'll design the drainage aspect of your system.
6. Equipment
HVAC systems comprise a wide variety of components, thousands in most cases. Choosing the right equipment to build your solution is essential for its performance, maintenance requirements, energy-efficiency and durability.
Would a ductless system be the most suitable solution for your building? Is your contractor bearing safety and fire requirements in mind when deciding on which commercial HVAC equipment to use?
Always discuss this issue with your contractor before you commit to the installation.
7. Mechanism
Another consideration your contractor needs to bear in mind is whether your building will be better off with a modular or integrated system. In most cases, they'll probably recommend a modular HVAC solution as these systems usually perform better in commercial buildings.
Otherwise known as decentralized systems, modular units give you the flexibility to control the temperature in different areas of the building at different times, maximizing their energy efficiency as well as comfort-providing abilities.
8. What Is The Cost of a Commercial System?
When it comes to calculating how much your HVAC your system will cost, it's advisable to compare the prices offered by as many local HVAC companies as you can. Remember, the cheapest companies might not provide a high standard of service, making their initial installation fee less significant than you think considering you'll pay more on energy than necessary.
Primarily, four factors affect how much you'll pay for your commercial HVAC solution.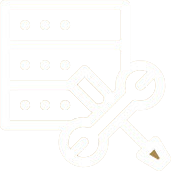 Installation
Before the installation even begins, you'll need to pay for the equipment that's required to build your HVAC solution. You'll likely pay for the commercial HVAC contractor's time regarding the initial design process. The total price of your equipment will depend on the type of system you require. Don't automatically select the cheapest option if it means you'll end up paying unnecessarily high energy bills (as mentioned above, your HVAC solution can account for around 39% of your energy usage).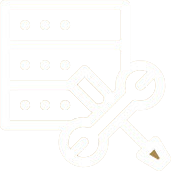 Purchase
The next factor that will add to the total cost of your HVAC solution is the installation itself. Usually, this fee will be determined based on the complexity of the fitting and the amount of time it will require to complete. If you're installing an HVAC solution in a new building, you may incur higher fees if your HVAC contractor needs to liaise with third parties. The System
After the installation of your HVAC system, you'll need to cover your monthly running costs, which is why it's crucial to invest in a highly efficient system. Some systems can be automated to turn on and off at certain times as well as control the temperature in different sections of your workplace. Your HVAC system will undoubtedly account for a sizable chunk of your energy bill, but as the industry continues to evolve, HVAC solutions are becoming increasingly more affordable to run. Therefore, if you haven't replaced your system for decades, now might be the time to consider a replacement.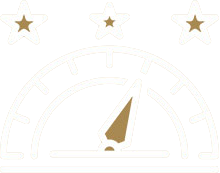 System Efficiencies
You need to stay on top of maintenance to keep your running costs to a minimum, which means calling an HVAC contractor for a routine inspection at least once a year. By identifying and repairing inefficiencies, no matter how costly that might be, you could save a significant sum on your energy bills in the long run. The bottom line is – don't neglect maintenance if you want to minimize your commercial HVAC cost per square foot.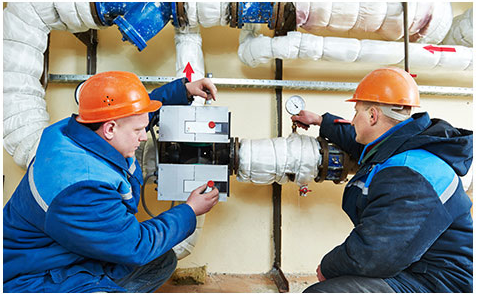 Just like your kitchen appliances, electrics and plumbed fixtures at home, your commercial HVAC solution requires routine maintenance and service to ensure it remains in full working order regarding performance and efficiency. You should budget for an annual commercial HVAC service at the very least, although if you power your system continuously, having it serviced to prevent problems arising every three to six months could prove to be a valuable investment.
Most HVAC installers will offer a maintenance program, which is beneficial for many reasons. Namely, by signing up to a service program, you can ensure you never forget to have your HVAC solution's condition assessed. Some companies may offer discounts if you opt to have your system serviced more frequently than once a year.
The HVAC service cost varies based on location, the company you choose and the type of system you have. Even though a residential air conditioner service cost falls in the range of $70 to $100, you can expect to pay more than that for a commercial HVAC service due to the complexity of such large systems and the time it takes to inspect them. Your HVAC contractor may have to work with third parties to comply with safety laws. If you require repairs, such as refrigerant leak fixes, you may have to pay anywhere between $200 and $1,500, depending on the severity of the problem and the size of your system. Small problems, such as fuse and circuit breaker issues, can cost as little as $50 to repair. A new thermostat will likely cost between $80 and $300.
You shouldn't automatically opt for the cheapest servicing company you can find – they may not inspect every nook and cranny of your system and fail to identify and repair small problems before they spiral out of control. It's often best to choose the company that initially installed your system to service it because they already know the ins and outs of your solution. You should discuss maintenance with your contractor when they're installing your system. They may even include services as part of an ongoing contractual fee, which could save you a significant sum in the long run.
10. Can HVAC Be Green?
As a rapidly evolving industry, HVAC solutions are becoming much greener. Not only do they clean the air inside your building, but they also use less energy than ever before, saving you money in the process. Some chemicals can contribute to the depletion of the ozone layer, but these are being gradually eradicated.
Your HVAC system can account for up to 39% of your total energy usage, even more, if you have an outdated system.
Thermally-driven air conditioning
Ice-powered AC units
Energy analysis software
Quiet duct wrap
Dual fuel heat pumps
Valley Comfort Heating
HVAC commercial systems are complex systems that require appropiate consideration and care. Valley Comfort Heating and Air Conditioning is a family-owned, 5-star HVAC businesses that can design, install and service any commercial HVAC solution. If you have any questions, we're only a phone call away.
At Valley Comfort, we deliver high-value service to all families and businesses across Napa and Sonoma.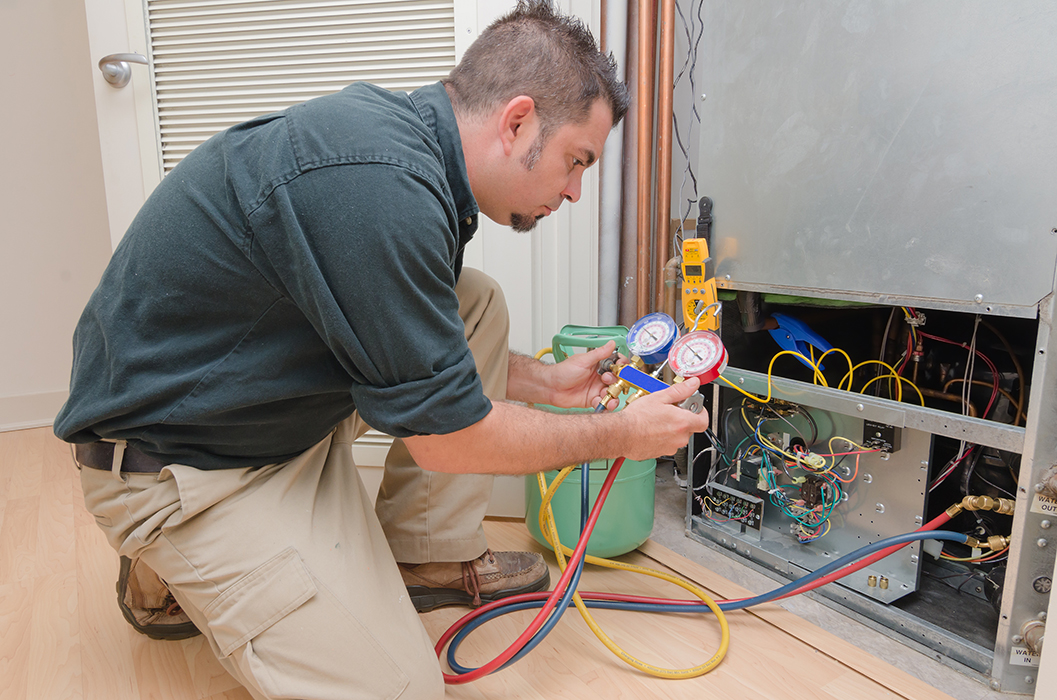 Request a Consultation
Please complete this form:
We serve Residential and Commercial customers in the following counties and cities
Sonoma County
Cotati
Healdsburg
Petaluma
Rohnert Park
Santa Rosa
Sebastopol
Sonoma
Windsor
Napa County
American Canyon
Calistoga
Napa
Oakville
Rutherford
St Helena
Union
Yountville