So, you've been using your air conditioner for years, and you've had your fair share of experiences with different technicians. Some of them have been positive, while others have been decidedly less so. You've decided that you want things to be a little more predictable when choosing air conditioning service & repair options in the future. You'd probably also like to make your service a little more consistent, which is why you might be considering a long-term service & repair contract with a technician in your area.
Some people aren't sure whether a long-term air conditioning service & repair contract is right for them or not, but here's what you need to remember: it's not that contracts themselves are objectively good or bad ideas. The fact is that a service contract can be extremely beneficial when offered by the right contractor. To help you, we've identified a few things you should look for in every professional you consider for long-term service, as well as what you should insist on whenever you sign such an agreement with them.
License to Chill: Why Professional Qualifications Matter for Air Conditioning Service & Repair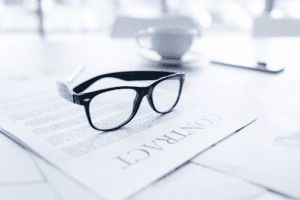 One of the most important things you can look for in a long-term AC service technician is a license. Not all states require technicians to have licenses, and others (like California) only expect them to be licensed for certain kinds of work. However, in almost every case you will want to make sure that the person handling your cooling service and repair has a license to perform such work. Here's why:
Licenses prove beyond any doubt that the contractor you have chosen to hire has the necessary experience in their line of work. Not just anybody can acquire a license to work on air conditioning systems. In fact, many state licensing boards require prospective applicants to have considerable experience in the trade before they even take the necessary exams. In California for instance, a contractor must have more than four years of experience to sit for the exam, and this experience must be obtained at or above the level of a journeyman. This ensures that all licensed contractors will know their way around the air conditioning systems they will spend most of their time working on and will be able to provide more satisfactory service to customers than technicians who lack the same level of skill.
A license indicates more than just experience, though. It also shows that your contractor puts their own money behind their work. Anyone applying for an HVAC license in California must have at least $2,500 of working capital and file a $10,000 bond with the Registrar of the State Licensing Board. The bond serves as an "insurance policy" of sorts and provides an incentive for licensed contractors to uphold specific professional standards at all times. Licensed contractors are therefore much less likely to overlook aspects of their work, as they will want to make sure they are always in compliance. You can almost always trust a licensed contractor to be detailed and diligent.
Attitude Matters: Friendly Contractors and Friendly Policies
A license proves many things, but it's not the only thing you will need to look for when choosing a professional for air conditioning service & repair. You should also look for contractors who go above and beyond to be professional in their dealing with you at all times. After all, if you're hiring someone to come to your home once or twice a year you want to be sure that they'll respect the space.
When you enter a long-term service & repair contract, you'll also need to know exactly what it covers. Many service contracts only diagnose problems; the contractor will point out a potential problem with your system, but it will cost extra to have them repair it. Other contractors offer tiers of service at different rates, in which higher yearly fees will cover additional services as needed. It's always important to know what your contract includes before you sign it, and exactly how much it will cost. Will your technician merely change the filters and have a look at your ducts, or will your annual fee cover leak fixes, refrigerant recharges, and replacement parts?
It is also worth thinking about the age of your system before you enter a service contract. Newer systems may not require repairs, and they may also be protected by warranties. However, systems that are more than five years old will likely not be covered by warranties and will be much more likely to have mechanical trouble. Long-term service contracts are often advisable for older AC units.
Before you sign a long-term air conditioning service & repair contract, consider the following: how old is your unit and is it protected by a warranty? Is the contractor you are considering adequately licensed? Finally, how much work will your agreement with them cover if they find something wrong during a service call? Answering those questions will make it much easier for you to decide on a long-term service contract with a technician you can trust.
Check with us here at Valley Comfort Heating and Air, our customers love our attention to detail and our friendly, affordable service. (707) 800-6287