For many homeowners, their living spaces represent a sanctuary from the elements outside, including dust, smoke, pollens, and dirt. Unfortunately, normal day-to-day activities work to bring all these contaminants right into a home and degrade the air quality as a result.
While this does not present a serious health issue for most people, it can be a real problem for some. For example, on their website, the EPA notes that,
"If family members are experiencing unusual or unexplained symptoms or illnesses that you think might be related to your home environment, you should discuss the situation with your doctor. EPA has published the following publications for guidance on identifying possible indoor air quality problems and ways to prevent or fix them."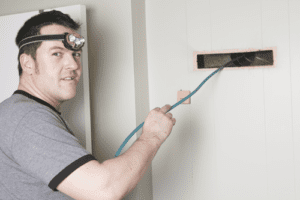 Regardless, the difference between having dirty or contaminated air ducts and clean air ducts is significant. Clean ducts allow stale and humid air to move freely through your system and get treated to become fresh air that can flow freely into your living spaces.
However, when the ducts are dirty, they can affect the quality of the air as it travels to the vents and into your rooms. If contaminated ducts are left uncleaned for too long, they can experience debris buildups that can clog them and block the airflow completely. Air duct cleaning services are simply a must.
Clean Air Ducts Can Make a Difference
According to information at the EPA website, there a few major reasons to have your air ducts cleaned in your home:
There is substantial visible mold growth inside hard surface (e.g., sheet metal) ducts or on other components of your heating and cooling system. There are several important points to understand concerning mold detection in heating and cooling systems:
Many sections of your heating and cooling system may not be accessible for a visible inspection, so ask the service provider to show you any mold they say exists.

You should be aware that although a substance may look like mold, a positive determination of whether it is mold or not can be made only by an expert and may require laboratory analysis for final confirmation. For about $50, some microbiology laboratories can tell you whether a sample sent to them on a clear strip of sticky household tape is mold or simply a substance that resembles it.

If you have insulated air ducts and the insulation gets wet or moldy it cannot be effectively cleaned and should be removed and replaced.

If the conditions causing the mold growth in the first place are not corrected, mold growth will recur.
Ducts are infested with vermin, e.g. (rodents or insects).

Ducts are clogged with excessive amounts of dust and debris and/or particles are actually released into the home from your supply registers.
It is important to keep in mind that these are somewhat more extreme circumstances that most homeowners and business owners will rarely encounter. However, having said that, it is also true that the "everyday" dust, smoke and other particles that fill the air daily can accumulate and collect in air ducts.
Clean Air Ducts Help Keep the "Outside" From the Inside
In fact, your home's heating and air ducts can build up an excessive amount of dust that can negatively impact your indoor air quality. If you tend to stay indoors for more extended periods during cold, winter weather conditions, the quality of the air inside is even more important than usual.
In addition, the air that is circulating in your home or office can carry dust mites and other allergens to widely dispersed areas of the building. One of the benefits of a professional duct cleaning, therefore, is that it clears out all the accumulated airborne debris in your vents.
Most everyone works, eats, plays and sleeps indoors. So, it stands to reason that air inside your home or office should be clean, safe and healthy. And one of the proven methods for ensuring that level of air quality is regular air duct cleaning.
As industry leaders we can provide the help you need to achieve the best indoor air quality and comfort levels for home or workplace. In addition, we can also help you save money on your utility bills. At Valley Comfort Heating and Air, we offer a wide range of affordable products and services that can solve all your air quality and ventilation issues.
Air Duct Cleaning Services Rohnert Park
Bottom line, the risks of not maintaining your air conditioner or furnace aren't worth the potential consequences. Before it's too late to call for a repair, get in touch with a trusted technician and schedule an air duct cleaning today. Experts recommend annual servicing of all HVAC components. Keeping up with this yearly calendar will ultimately save you money, prevent costly and inconvenient breakdowns, and even boost your home's interior air quality.
Valley Comfort conducts HVAC system installation and repair services in Rohnert Park as well as the following communities: Santa Rosa, Napa, Healdsburg, St Helena, Calistoga and Windsor.