If your home, office or other building has become uncomfortably hot, you should consider hiring a professional AC repair service. There is no sense sweating out the summer when affordable cooling solutions are available. Whether your current system is malfunctioning or if you have no AC system at all, you should know that expert AC repair services are readily available.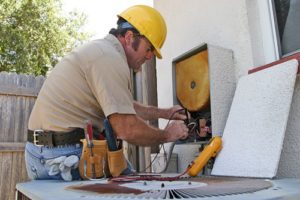 Professional Installation and Repair Services Done Right the First Time
The main benefit of hiring a team of knowledgeable air conditioning aficionados to handle your air conditioning emergency or installation is quality of workmanship. Though you can try to perform a DIY repair or installation, you will likely find that such efforts are fruitless. Pick up the phone and reach out to a professional AC repair services provider and you won't have to worry about whether the job gets done right.
An Expert can Help You Determine if a Repair or Replacement is Prudent
In some instances, a broken down air conditioning system does not have to be replaced. It might be possible to perform a simple and cheap repair that gets the system back up and running in little time. However, the typical layman does not have the specialized knowledge and experience necessary to discern between issues that require a repair and those that necessitate the complete replacement of the system. Lean on the expertise of a professional AC repair services provider and you will have no doubt as to whether a repair or replacement is the best course of action.
The Thorough Repair and Maintenance You Deserve
Every air conditioner must be maintained in the proper manner for optimal functionality. A rushed or botched attempt to repair, clean or maintain an air conditioner has the potential to lead to even worse problems. A poorly repaired or maintained air conditioning system will lose its robustness at some point in the future, inevitably leading to a frustrating malfunction. This is exactly why you should reach out to a qualified AC repair services provider instead of the neighborhood handyman.
The Trained Eye of an AC Repair Expert
Tap into the expertise of an experienced air conditioning repair service provider and you will rest easy knowing that a true HVAC guru has studied the nuances of your particular system. When examining your air conditioner, the repairman might notice a subtle issue that might not seem like a big deal at the moment. However, such small problems have the potential to spiral into expensive repairs across posterity. This way, you will have no doubt as to whether your air conditioner is functioning on all cylinders. You will rest easy without any concern that an additional repair will be necessary in the near future. This is the type of peace of mind every homeowner and business owner deserves.
Safe, Timely and Reliable Repairs
Though your local handyman might have some HVAC knowledge, he probably doesn't know how to perform repairs to such equipment in a safe manner. This fact is a testament to the idiosyncrasies of air conditioning equipment. Hire a professional and you won't have to worry about a potential lawsuit or calling an ambulance due to the improper handling of your air conditioner's parts.
Air Conditioning Repairs are of the Utmost Importance
As the globe warms, the need for a functional air conditioning system becomes even more pressing. Do not place your trust in an amateur when it comes to AC repair and diagnosis. Professional AC repair services are well worth the money. An expert's workmanship just might prevent even costlier problems from popping up throughout the rest of the summer so contact us today.