If you have decided to have your home or office's air ducts cleaned, you have made the right decision. A deep clean of the building's air ducts will prevent sickness and allergies. It will also lower your utility bills. However, it is not prudent to Google your city's air duct cleaners and reach out to the first one that appears to schedule an appointment. There are some scam artists out there who will do little (or no) work and charge you as if they performed a comprehensive air duct cleaning.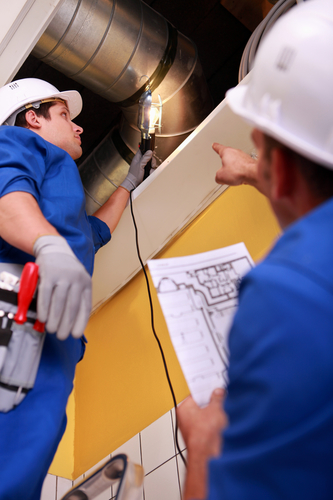 Ask Candidates how They Perform the Air Duct Cleaning
When researching local air duct cleaners you should ask if they adhere to the National Air Duct Cleaners Association's (NADCA) guidelines. If they do not abide by these standards, they probably won't perform an effective air duct cleaning. The clean should include supply air ducts as well as return ducts. The cleaners should also replace all grills and registers. They should also be willing to seal the access panel. Make an inquiry about their tools as well. Truck mounted equipment is favorable compared to the more diminutive portable vacuums.
Also, reach out to NADCA or the appropriate local government office to determine if air duct cleaning companies in your area are required to have a license. NADCA can be found online at www.nadca.com. They can also be reached by phone at (856) 380-6810. When contacting this organization, do not be afraid to ask if the air duct cleaning candidates you have in mind are in good standing.
Research the Background of Each Air Duct Cleaning Service
Spend the little bit of time that is necessary to find out if the company is insured and bonded. Insurance will pay for damage caused to your home or personal items during the air duct cleaning. Find out if the cleaners are extensively trained. Make sure that the company has been in business for a while. Do not be afraid to ask around to find out if others recommend the company's work.
Obtain a Price for the Air Duct Cleaning at the Outset of the Inquiry
Get a few quotes from air duct cleanings companies. If a certain company's pricing is well above the average, ask them why they charge more than competitors. There might be some logic to their comparatively higher prices. Perhaps they offer more extensive cleaning services or they have a better reputation within the community. Be cautious of any company that quotes an egregiously low price.
Ask Companies for Referrals From Past Customers
If you can't find any online reviews or can't pinpoint past customers in your geographic area, do not hesitate to ask the company for referrals from past clients. When provided with their contact information, reach out and ask them if they are fully satisfied with the company's work.
Check out the Website and Perform a Web Search
Those who have Internet access should check out the company's website. Read up on their business history. Search the web for reviews, including complaints filed with the your area's consumer affairs organization and the Better Business Bureau. The Council of Better Business Bureaus can also be reached by dialing (703) 276-0100.
A Little bit of Air Duct Cleaning Research can Save you Plenty of Money
Abide by the cautionary measures outlined above and you'll find the right HVAC technician to clean your building's air ducts. Contact us to hire a reliable air duct cleaner and you won't have any worries about the job being done right.