Every business owner needs an effective HVAC system to keep things running properly. Imagine a restaurant in the dead of summer without any air conditioning. How likely are their patrons to return the next time it's a hot day? Without properly functioning equipment, businesses lose money and are unable to function. Unfortunately, most people don't know anything about commercial HVAC systems before becoming business owners.
To address this situation, we've started a commercial HVAC for dummies series, complete with helpful information on a variety of subtopics. Keep reading below for a basic introduction to the topic along with useful links to more detailed information along the way.
The Most Common Commercial HVAC Systems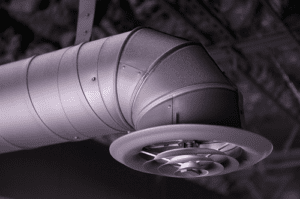 To understand how a commercial HVAC system works, we'll look first at the most common systems. The two main categories of system that you'll find in commercial spaces are central heating and cooling systems, and systems that are designed for individual rooms. Within each of those categories, there are many variations that we've covered in depth elsewhere. For now, we'll focus on the most common styles:
Central air is the original option that showed up in many businesses and buildings beginning in the 20th century. While it was initially built around a heater passing warm air through a series of ducts, it was adapted to cool using a refrigerant and an exterior, split unit. Some modern versions of heating systems that you may find are heat pumps, which transfer heat between places using water as a medium (and thus move it away from where you'd like to cool), and evaporative cooling systems, which are generally only used in warm, dry climates.
Room-specific systems can be repeated for more extensive commercial settings or offices in situations where there's no opportunity for a central air infrastructure. Alternatively, some businesses use individual systems to supplement a central system in rooms that require extra attention, such as kitchens and computer centers. The most common kind of these systems is the mini-split, which functions in the same way that central cooling does, but on a much smaller scale.
Commercial HVAC for Dummies: Benefiting from Your System
Ultimately, the most essential factors in are how expensive they are and how effective they are. Depending on your situation, these two considerations may not scale poorly. For example, in a warm, dry climate, an evaporative cooling system is both effective at doing its job and relatively inexpensive to operate. On the other hand, in very cold climates, you may have fewer effective options regarding how you heat your business.
The commercial HVAC for dummies overview of these systems is that an efficient system, such as a heat pump, will generally cost much more to install, but will cost significantly less during its operation. Using a series of mini-split systems can save a lot of money on installation, but will operate much less efficiently, meaning your power bills will be commensurately higher.
Often, the main factors for whether a system will serve adequately are apparent. If you live in a climate that is exceptionally hot, humid, or both, then you may have no choice but to install a central air system and couple it with several mini-split systems to ensure that your clientele and staff are kept cool. In more temperate, dry climates, however, you may be able to operate with a high-efficiency heat pump system.
Maintenance and What to Do When Things Go Wrong
Each kind of commercial HVAC system will have a unique approach to maintenance. For example, central air systems use air filters to reduce allergens and other air quality imperfections. These filters must be changed regularly, such as once monthly. While that kind of maintenance is easy for staff or owners to handle themselves, other forms of regular maintenance need a professional approach. Specifically, your ducts must remain free of obstructions and mold growth if you want them to function properly. Professional HVAC contractors can help you by cleaning out these ducts every year or two.
Similarly, if your system stops working or suffers physical damage, that kind of maintenance is outside the capacity of most people. Don't take the risk of making the damage worse. Instead, immediately contact your HVAC contractor to examine the situation and provide the necessary maintenance or repairs.
Taking the Next Step: Commercial HVAC for Dummies
If you'd like to explore any of these topics further, make sure that you explore our helpful blog. We exhaustively detail the essential differences between each kind of HVAC system as well as how to provide essential maintenance. This guide, commercial HVAC for dummies, is an excellent starting point for anyone new to managing a business or just learning about their commercial HVAC system. Remember that, as always, the best way to get accurate information regarding your HVAC system options is to speak to a licensed contractor who visits your location.