Optimizing Performance and Efficiency in Commercial Air Conditioning Systems
If you want to get the most from your money, you need to think about efficiency. While nearly any commercial air conditioning system could work for your business if you're willing to spend enough money to do it the wrong way, the real benefits occur when you find the perfect balance between your initial capital expenditure and how the system measures up regarding efficiency in commercial air conditioning systems.
It's not always immediately apparent how to get the most efficient systems for your building, so we recommend speaking to a trained professional. Specifically, talk to a licensed HVAC contractor who can visit your location to provide accurate, relevant information regarding your business's specific needs. Nevertheless, we address some of the key ways that you can identify how to use an efficient system and what kind of system would give you the best results.
What Efficiency in Commercial Air Conditioning Systems Means to Your Business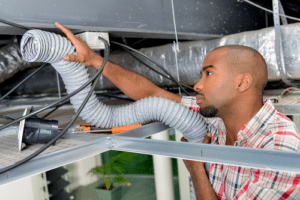 Every business is ultimately measured by how much revenue it generates compared to how much money it spends doing so. If you're able to spend less money on overheads such as heating and cooling, which don't directly generate more revenue, then your business benefits, and is why efficiency in commercial air conditioning systems is important.
Despite this, it's not always the right choice for your business to go for the most energy-efficient system. In some cases, it may result in spending much more money due to heavy capital investments that you won't make up in the immediate future. For example, if your business currently has a series of industrial box fans in various parts of the building and you're in a temperate area, you may be best off using your current series of mini-split systems and supplementing them with the fans to spread out the cool air.
Similarly, the most energy-efficient systems are those that also take advantage of solar power, but it can be expensive to install a new HVAC system and a series of solar panels. Instead, you may be best off by focusing on a new heat pump system using traditional energy until circumstances change or the government offers a grant for businesses who switch to solar power.
Commercial HVAC System Overview: Efficiency Comparison
The least efficient systems, historically, are those that tend to be the most powerful. In exchange for using a lot of energy, these systems produce rapid results in terms of cooling large buildings or open layouts. Therefore, in many places where the systems tend to be pushed hard, such as extremely hot or humid climates and those that are excessively cold, businesses are forced to rely on gas or oil central heating and electric central air conditioning. The added pressure of people entering and exiting the building swiftly becomes too much for more efficient systems to handle.
As mentioned above, however, solar-powered systems provide the best opportunity for businesses to save money in the long term if you can absorb the initial expenditures. Another efficient option for which there are potential government grant opportunities is geothermal heat and cooling. This system uses a medium to transfer heat to and from the ground so that you can use essentially-ambient heat rather than using gas or power from the power grid to heat or cool air specifically for your building.
A third efficient option for heating is to use the heat pump water heater. Like geothermal HVAC systems, this system uses water to transfer heat from place to place to adjust the temperature in both directions instead of generating new heat. While not as efficient as geothermal can be, the system is less expensive to install and thus can be a good middle-ground for businesses that lack the capital for a new geothermal system. As a bonus, these systems use similar infrastructure, so you may be able to convert a heat pump system into a geothermal one at a later date.
Maximizing Efficiency in Commercial Air Conditioning Systems
As we've touched on here, there are a lot of variables that go into determining the right air conditioning system for your business. As you're looking for efficiency in commercial air conditioning systems, we again recommend speaking to a trustworthy HVAC contractor – someone who has positive reviews from other local business owners. These contractors are genuinely motivated to help you find the right solution for your air conditioning needs, even if it means a smaller expenditure today.
Your business deserves the right systems to keep your customers and employees cool during hot summer days. Take the time to review whether you can use an efficient cooling system to save money, or if the local climate and sun exposure means your building load is far too large for low-energy cooling systems to handle. Ultimately, making the right choice today regarding what kind of system to install can serve your business well for years to come.