After the devastating fires of 2017, many residents throughout Sonoma and Napa Counties are getting new homes built, or already have one now. For many of these residents this will also mean having brand new heating and cooling systems.
As with any major appliance that is new, there can be an understandable tendency to assume that they will run and function properly and reliably all year round, 24/7. And, typically, this can be true. However, even new equipment can suffer from a shortened service life if not well taken care of. According to the folks at Home Advisor,
"With proper maintenance, a new air conditioner should last 12-15 years, and can last much longer than that in some cases. With central air and/or window units it's not only important to have routine maintenance performed on them, but to also use other features that will help you're A/C run even better."
At Valley Comfort Heating and Air, we agree that having routine maintenance is a huge boost to your cooling system's longevity. In fact, it's a good idea to have one of our professionals inspect your unit to give it a "check-up" at least once a year, just like your doctor does for you with an annual physical.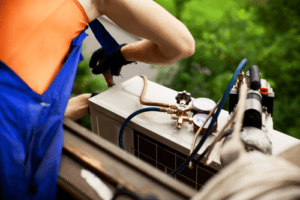 Sonoma County and the Napa Valley region is not known for its temperature extremes or particularly harsh winters or summers. Nonetheless, we do have traditionally hot periods in the late summer with stretches of triple-digit heat that have been known to last for days.
In addition, while we may not see the snow that is so common in the Midwest or in New England, the Wine Country regions experience periodic frosts and freezes almost every winter. While not quite life-threatening, being at home at night without a heating system can be brutal even in our part of the world, which is why it is essential to make sure your systems are functioning as they should each year.
DIY Tips for Your Heating and Cooling Systems
In-between the annual inspections we can do for you, there are several things you can do yourself to help keep and maintain your heating and cooling systems. Here is an overview of 10 tips that explain what you can do periodically:
For your heating systems:
Before the temperatures first drop below 32 degrees Fahrenheit you test your heater to make it is running properly. It's not unusual to initially notice a "dusty" odor, but this should dissipate fairly quickly. If you don't feel any warm air coming from the vents, you should call a professional right away.

If you have a natural gas system, check the pilot light. Not that the pilot light flame should always be clear blue. A yellow flame indicates that the air-to-gas mixture reaching the burners is faulty. A yellow pilot light will also produce

carbon monoxide

, which is toxic.

Filters, filters, filters! It is recommended that you change your furnace filters about every three months. Otherwise, your furnace works harder to push the warm air through the filter, causing it to run less efficiently and increase strain on the system.

Make sure that curtains, furniture, or indoor plants are prevented from blocking the heater vents. Unobstructed flow of air from the vents allows heat to flow properly and effectively.

Scheduling yearly inspections of your heating system is important to help avoid major furnace issues and to identify problems or issues you cannot see.
And for your central air conditioning:
It's a good practice to check all visible hose connections for and leaks or cracks. The unit's condensate tube should drain easily and without obstructions.

Dirty and clogged filters are the cause of many HVAC problems. While it may seem excessive, changing the filter every four to six weeks will extend the life of your heating and air systems. Not only that, clean filters make a significant difference for anyone in your family who suffers from severe allergies.

Periodically clean off the outside air compressor with water. Using a garden hose is often the easiest method for this.

Keep the are close to the compressor free from any obstructions to ensure a free flow of air.

Despite some claims of a marketing scam, it really is beneficial

to have your ductwork professionally cleaned

. We recommend having the ducts in your home cleaned at least once a year to ensure that you will always have clear, clean passageways for fresh, treated air.
Taking Care of Your Heating and Air
Remember, if you want to learn more about the best ways to keep your heating and cooling systems running in the future, we will provide you with the information you need that will help you maintain your current equipment. In addition, we can offer free estimates on replacement parts and equipment, if needed.
At Valley Comfort Heating and Air, we are proud to serve homeowners throughout Sonoma County and the surrounding area. We offer quality Sonoma County HVAC services as well as the best services for HVAC Napa Valley. Our experienced team at Valley Comfort Heating and Air is ready to help
Contact us today and let us solve all your HVAC needs. We are dedicated to helping you live comfortably by keeping your heating and cooling systems in good hands. Give us a call at 707-623-1417 for Sonoma County or 707-927-1678 for Napa Valley residents about how we can help your home or business.