High AC dependency rates are prevalent in California. Only one thing can help us through the hot summer, while at home or in the office. The solution is an air conditioner and this valuable piece of equipment provides you with much needed comfort throughout hot summer days. A busy schedule should never be the reason why your AC is neglected and guaranteed the proper maintenance it deserves.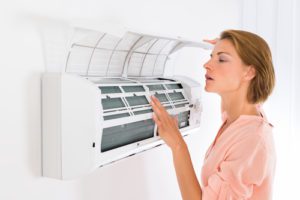 The main air conditioning system in your home or office has several parts that function together to fulfill a purpose. This purpose would be to eliminate heat and exhale chilled air into the home or office. If one of the parts no longer operate as expected, it can create those pesky noises that we all dread hearing:-
Clicking- also common with an electrical hitch such as the relay switch
Cracking- issues with the motor or the compressor
Squealing- suggests a damaged blower motor belt
Clinking- problems in the ducts, pertain to issues with the fan or loose internal mounts
Humming- generally heard with a major electrical hitch
You may need to schedule an appointment that can result in repair or you may need a new installation. This depends on the severity of the problem. If you are looking for a state of the art air conditioning system you should then review Bryant Air Conditioners. We at Valley Comfort Heating and Air Conditioning take pride in promoting this product as it is definitely one of the best air conditioning unit brands in the industry.
Schedule Your Air Conditioner Maintenance

A disarrayed serpentine belt that is squealing is a simple repair, but if you wait too long, the belt might cause your system to stop altogether. This shutdown may come during the summer, at a time when you definitely need your system most.
A symptom of a loose fan blade is a clinking noise. If you don't get this problem resolved the consequences are quite fatal for your air conditioning unit. This can develop into more serious permanent internal damage.
So why not schedule a service with your skilled technician, so that all your problems will be managed efficiently and effectively. Never wait until the problem gets out of hand to schedule your service. Contact us and save time and money!