From homeowners to property managers and business owners, everybody needs a reliable HVAC company. Your HVAC technician will be there to carry out annual services and inspections of your air conditioning, your heating system, and your ductwork, thereby helping prevent premature and unscheduled breakdowns, costly repairs, indoor air quality problems, and overall issues with system inefficiency. Furthermore, if you ever do have a breakdown, it is comforting to know you already have a person on speed dial who you can trust to resolve the issue in a timely and effective fashion. The question is, how can you find a company for HVAC in Santa Rosa, CA, that you can trust to deliver the type of high-quality service that you both want and need? In this post, we will outline several things you should look for when researching and talking to HVAC companies to narrow down your list and ultimately choose the best one for the job.
Licensing and certification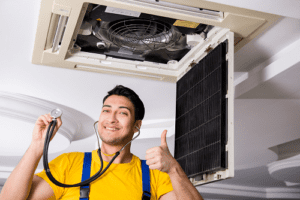 There are specific state licensure requirements that HVAC companies must have to operate legally in the state of California. Asking HVAC companies about the licenses, certifications, and accreditations they hold will help you determine whether the company is reputable or not. In addition to company-wide accreditations, a trusted HVAC company should also have standards of training and certification that it requires its technicians to go through individually.
If you have friends or family in the area, consider asking them about their go-to companies for HVAC in Santa Rosa, CA. Not everyone will have a recommendation for you, but you should be able to collect at least a few business names, as well as quick reviews or assessments of how those businesses did. It's also a good idea to read online reviews of the HVAC company you are considering, whether on the business website or external business review sites such as Google. Learning about the experiences that other customers have had with an HVAC technician will tell you a lot about what you can expect from being a customer of that company yourself.
Ultimately, you should think about HVAC servicing and maintenance as an investment in the future reliability of your system. While you will spend money right now to have your system checked or the ducts cleaned, those investments will hopefully save you money in future repairs, extending the lifespan of your aircon, or cut down on the utility bills you are paying each month. Still, it's okay to be thoughtful about how much an HVAC service will cost. You certainly don't want to be overcharged and looking for a good deal is a natural thing to do in any marketplace. Any HVAC company worth its salt should be willing to provide free quotes or ballpark pricing estimates for services, repairs, or equipment replacements. Unless the company is sharing a general service quote for inspection and routine maintenance, though, be wary of businesses that give price quotes sight unseen. Every HVAC system is slightly different, which means an on-site visit and inspection are almost always necessary to get a reliable, accurate quote.
Again, the cost isn't everything when it comes to HVAC servicing. It's better to spend a little more upfront if it means your system will last longer or run breakdown-free all winter or summer. Still, it's always worth asking for chances to save money on an HVAC service or at least handle expenses in a manageable way. Enquiring about coupons, rebates, and financing options is smart, whether you are getting a routine inspection or budgeting for a replacement air conditioning system.
One good question to ask an HVAC company before you commit to working with them is the brand of equipment they prefer to use. A well-trained HVAC technician should be able to service an existing system from any brand. However, if there is a chance that your service could involve replacing an air conditioning system or heating system, you want to make sure you are teaming up with a company that works with proven, respected HVAC brands.
You don't want to have multiple different HVAC companies that you use for different types of services. Instead, you should aim to get everything you need for your HVAC system under the same umbrella. That means finding a company that does work with all types of heating and cooling systems handles residential and commercial jobs alike and can consult with you on how to save money on your monthly energy bills. You need a service provider that offers duct cleaning and help with indoor air quality equally, and that provides HVAC servicing checkups, maintenance, repairs, upgrades, or replacements. In this industry, versatility is often a sign of skill, experience, and confidence—all things you undoubtedly want from your HVAC service technicians.
Start Calling Contractors for Help with HVAC in Santa Rosa, CA
You can learn a lot just by having a conversation with an HVAC service technician. Start calling companies that focus on HVAC in Santa Rosa, CA, and asking any questions you might have. The answers will help you decide which company meets each benchmark listed above so that you can start planning your next service or repair today.