If you do not know the difference between an HVAC license and certification, you are not alone. Most people are not aware of how different the two titles really are, and which one is necessary to pursue a career in HVAC.
In this article, we will look at the primary differences in an attempt to shed some much-needed light. The hope is that our readers will have a more concise understanding of the certification, what the license is, the importance of both, and how they can know whether the HVAC professional they hire has the necessary qualifications.
An Explanation of the Certification for HVAC
The HVAC technician certification allows one to acquire the necessary skills to operate as a technician. However, it is worth noting that operating in this sense does not mean that you can start your own HVAC service, since for that, you need the license as well. During studying to become a technician, one learns to understand and improve all aspects of HVAC systems.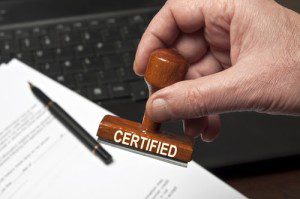 The certification itself requires a total of 210 hours of classroom instruction. These courses are completed within a five-year time window. The candidate must pay a registration fee and attain a minimum grade point average of 2.5 to pass, so if you plan on doing the certification, keep that in mind. Many colleges offering these certifications require candidates to have a minimum of either a high school diploma or a GED.
In terms of the type of certifications available to you, those who previously worked in the field beneath the wing of a licensed HVAC technician will enjoy a wider range of choices since they already have some experience. The program teaches students about temperature control, equipment design, equipment construction, installation, repair, etc. You will essentially cover everything from the basics to the more advanced material that will help you become an effective and reliable HVAC professional.
Those who pass the certification process will be able to build and modify systems in compliance with energy conservation standards. Upon completion, the HVAC technician will have the skills necessary to maintain, install and repair HVAC systems. His certification is formally granted with a printed certificate or an associate degree.
The Basics of the HVAC License
The HVAC license is obtained after an individual completes his training program and certification/degree, so it is fair to think of it as a form of post-graduate study. While this might simply seem like an unnecessary additional step, it is worth noting that most states require that candidates pass the licensing exam before they can work in the field to ensure reliability.
License candidates must be a minimum of 18 years old and must be fluent in English. All prospects must also have four years of warm heating experience, a part of which you should be able to accumulate while doing your certification. Those who meet the relevant criteria are provided with the opportunity to take an ICC examination. These exams are created by the International Code Council and administered at approved testing centers throughout the country.
Once the candidate passes the license exam and meets all the other requirements, he is legally eligible to work as an HVAC technician. Whether they choose to start their own business, work with friends or family, or work for someone else, is all an option.
Look for Both a License and Certification from Your HVAC Provider
While you might encounter many who will claim that they can help you with your HVAC systems, you should always double-check their qualifications. The last thing you want is for someone to increase the damage further and leave you having to get a qualified professional after the fact anyway.
Ask the people in question about their qualifications and proof thereof if you want to. There is nothing wrong with requiring reassurance from a professional – and those worth their mettle will never hesitate to show the proof.
Do not do business with HVAC service providers who lack either the HVAC certification or the license. Providers should have both credentials as this proves they have experience in the field and the necessary knowledge to help you with your problems. The best HVAC professionals will always be more than formally qualified and will certainly not ask you to 'trust' that they can do the job instead of sharing the information regarding their qualifications with you.
You should further note that the best HVAC professionals will remain up to date with the latest industry trends and will always try to further their knowledge where they can. Make sure your HVAC professional keeps informed and uses reliable technology.
If you have any questions about an HVAC license, or you want to learn more about our residential or commercial services for maintenance, repair or installation, reach out to us, and our professionals will help you immediately.
Everything You Need to Know About HVAC Licenses and Certifications
There are a lot of factors you have to juggle when installing a new HVAC system. You have to decide on a type of system, figure out which units you want to install, and then on top of that, you have to pick out an HVAC contractor to install the whole thing. By the time you get to this step, you might be inclined to just pick the cheapest option, especially since purchasing the units can cost so much upfront. However, it's always worth doing a little research into a contractor before offering them a job.
You can look up reviews, ask for references, and speak with previous clients to get a sense of how each contracting business operates. However, the first step you should take is to make sure every potential HVAC contractor on your list holds all the proper licenses to operate in your state. While trade licenses can be a bit of a controversial subject, the truth is that, without a license, there's no way of knowing if a contractor is following all the correct guidelines and regulations. Here's a little information on the licenses and certifications required to be an HVAC contractor.
HVAC Certification
An HVAC certification is a lesser version of a full license that's recommended for all individual HVAC technicians. While holding a certification like this won't allow someone to start their own HVAC contracting business, it does mean that they've learned enough to operate as an HVAC technician under someone else's license. If the business you hire is operating correctly, then every technician they send to your house will at least carry a full HVAC certification. The certification means you can rest assured that the technician has enough knowledge and experience to install or service your HVAC system properly and without damaging anything.
While most states, California included, don't require any certifications to work as an HVAC technician, it's still recommended that every technician get at least one. We also highly recommend that you find a business that employs certified technicians. Even if they do a good enough job of training their workers without the certificates, you're still better off knowing for sure that every technician has passed the necessary courses and tests to be certified. A centralized authority for certification means that everybody has to have the same base knowledge, so you can be sure they know everything they need to.
The one certification that is required nationwide is an EPA-regulated one covering refrigerant recovery and recycling. Refrigerants are the chemicals used to cool the air inside an air conditioner. Because flushing and replacing refrigerants is one of the most common tasks required of an HVAC technician, the majority of HVAC technicians in the United States have this particular certification. If one of the contractors you're looking at doesn't seem to have EPA certifications for all their technicians, you should consider it a red flag. Refrigerants can be dangerous to the environment if mishandled, so it's important that all technicians learn to work with them the correct way.
Typically, the courses for HVAC certifications are offered by state and community colleges. They can take anywhere from six months to two full years, depending on the particulars of the course, and include a mix of classwork and practical application of knowledge. However, if an applicant has worked as an apprentice under a licensed HVAC contractor for a long enough period of time, usually between three and five years, they can skip the coursework and go straight to the testing process.
There are a few different organizations that run HVAC certification tests, including North American Technician Excellence (NATE), HVAC Excellence, and the Refrigeration Service Engineers Society (RSES). Many of these organizations also offer job training courses so applicants can do the coursework and the test at the same time. Once a student has passed the test, they'll know enough about temperature control, equipment design and construction, installation, repair, and maintenance to successfully operate as an HVAC technician. While the non-EPA-mandated certifications are generally not required by the state, we do highly recommend looking for businesses that hold as many certifications as you can. This is a good way to know for sure that their employees really know their stuff.
HVAC Licensing
A full HVAC license is the next step up from the certifications. You can think of it as a kind of post-graduate training for an HVAC technician – once they've learned the basics, it's time to broaden their knowledge base and become masters of their craft. While it's not necessary for individual HVAC technicians to hold a full license, typically the person who actually runs the business will be licensed. This means they have the knowledge to step in and help with any problems their less-experienced technicians might encounter.
In most states, a license is required to start an HVAC contracting business, although the particulars can vary pretty wildly. Some states, like Massachusetts and Illinois, don't require any licenses for HVAC business owners, although we still recommend looking for licensed businesses if you live in one of those states. In California, a C-20 HVAC license is required for any jobs over $500, but not for smaller ones. This means that you can hire an unlicensed contractor for minor maintenance work that won't cost much money, but most contractors in the state are going to be licensed so they have the flexibility to work bigger jobs.
In order to take the test for an HVAC license in California, you first have to get permission from the state's Department of Consumer Affairs Contractors State License Board. The requirements for the test include at least four years of experience in the field as an HVAC technician, as well as a $15,000 contractor bond and proof of worker's compensation insurance. We'll talk a little bit more about bonds later on since they're an important part of protecting consumers from the possibility of mistakes made during the work. Once a technician has secured the necessary experience and insurance, they can sit for the C-20 licensing exam.
To get a C-20 HVAC license, there are actually two required tests. The first is the contractor's exam, which covers technical skills like HVAC repair, installation, and maintenance. In addition to this exam, there's also a business law exam that covers licensing requirements, employment regulations, bonds, insurance, and other rules and regulations. Once an applicant has passed both these exams, they're ready for any challenges that might come from running an HVAC contracting company, both technically and on the business side of things.
The expansive nature of these licensing exams might seem like overkill, but they ensure that every licensed HVAC contractor in the state knows how to operate a business safely and correctly. That's why, even for smaller jobs under $500, we highly recommend choosing fully licensed contractors. This way, you can rest assured that your contractor knows how to take care of you and your HVAC system, whatever your specific needs might be. The bonds required to get an HVAC license in California also mean that, if something does go wrong, the business will be able to afford to make things right for you.
Contractor Bonds
Contractor bonds are kind of similar to any other business insurance. However, while general liability insurance is meant to protect the business from lawsuits or other liability issues, a contractor bond is meant primarily to protect the customer. Often, contractor bonds are taken out on a project-by-project basis and cover both the business and the customer from equipment and property damage. They're usually a three-way contract between the business, the customer, and a third-party guarantor. There are two main types of contractor bonds: surety bonds and licensing bonds. In California, many HVAC contractors will carry both for larger jobs.
A surety bond is the most common kind of contractor bond. These can be thought of as one part insurance, one part contract. When a contractor signs a surety bond, they're making a deal with a guarantor to cover any costs from mistakes that might arise during the job, but they're also outlining the parameters of the job. This can include the use of specific materials, set working hours, and other guidelines the customer might prefer. If you hire an HVAC contractor and sign a surety bond before the work starts, the guarantor will pay you back if any part of your home is damaged accidentally. These bonds are relatively uncommon for small repair or maintenance jobs, but they can be a good idea for bigger installation projects.
License bonds are a little different. Instead of being signed on a project-by-project basis, license bonds are long-term and are held between the contractor, a guarantor, and the state itself. Many states, California included, require license bonds of a certain size for all licensed HVAC contractors – at least $15,000. License bonds typically don't cover damage from mistakes or accidents. Instead, they're concerned with damage arising from unethical or unprofessional decision-making. If the customer, state, or guarantor feels that a contractor has behaved unprofessionally, they can make a claim against the license bond. This is a good thing for all HVAC customers in California to know. If a sketchy contractor acts unethically and causes damage to your house, you can file a claim with the state against their license bond to get your money back.
Having the proper bonds and insurance is one of the major differences between licensed contractors and unlicensed businesses or amateurs. Sure, an unlicensed contractor might have all the knowledge required to fix your air conditioner for you, but if something does go wrong, you'll have very little recourse when trying to get your money back. Licensed bonds are a sign of a professional and ethical business, and we'd recommend being wary of a contractor that doesn't offer at least a surety bond for your installation job. It's important to make sure that you're protected in the case something does go wrong, and contractor bonds are the best way to do that. While you probably won't need any surety bonds for something simple like a repair or standard yearly maintenance, you should feel free to request one if you feel more comfortable.
HVAC Installation Requirements
One of the most important things taught by licensing courses is the full list of requirements and regulations surrounding HVAC installation. Because HVAC systems involve airflow in and out of a building, as well as their high energy requirements, there are some pretty strict rules that make sure your HVAC system is running smoothly and safely. Some of these are included in California's Building Code, while some are specific to HVAC-related codes. There are also regulations put out by the EPA that cover the energy efficiency of an HVAC system. Don't worry, we won't go over all these rules and regulations since they can get pretty complicated. However, it is important to be aware that they exist, and that a licensed contractor will know what they are.
There are a few aspects of an HVAC system that can be dangerous or harmful if not installed correctly, which is why these rules are so important. Refrigerants, for example, can be extremely damaging to the environment if they're allowed to leach into the ground underneath the air conditioner. Furnaces and other heating units can be fire hazards if not installed correctly, and so can the electrical wiring of any system. A poorly installed HVAC unit can also cause problems with your air quality, potentially making you or your family ill or causing severe allergies.
This is one of the key reasons why we recommend only hiring licensed and certified contractors. Some of the regulations put in place by the state might seem counterintuitive to an amateur, but a fully licensed contractor will know exactly how important they are, as well as how to follow them to the letter. With a licensed HVAC contractor, you can sleep easily knowing that your central air system won't have any dangerous problems.
Why Choose a Licensed Contractor?
There are a few big reasons why we always recommend picking a licensed HVAC contractor. While it's possible that an unlicensed worker will be able to fix your system, there's always the risk that they might cause some damage due to inexperience or lack of training. With a licensed and certified contractor, you can know for sure that they have training, years of experience, and have passed the licensing exams. That could be the difference between having your unit fixed correctly the first time and having to go back and hire someone else to undo the damage your unlicensed contractor did.
If an unlicensed contractor does manage to damage your HVAC system, it could be very difficult to get restitution and make things right. Contractor bonds provide a level of protection for the consumer that you just don't have with an amateur or unlicensed worker. That's especially true if they act unprofessionally and cause damage. That $15,000 license bond is extremely important when it comes to making things right after the fact, so even if your licensed contractor does do something wrong, you can know for sure that you won't have to pay for all the repairs.
Finally, there are plenty of problems that can be created during subpar installation but might not necessarily be recognizable at first. A sloppy installation can create serious issues for your system down the road, or even create hazards for you and your family. Because HVAC installation and maintenance is something that most people know very little about, you'll be relying pretty heavily on your contractor to tell you if something is wrong. If that contractor doesn't know how to tell for themselves due to lack of experience or training, then you're going to have a big problem later on.
Licenses and certifications are also just a sign that whoever is running this particular business is a genuine professional who takes their work seriously. A good HVAC contractor needs to be able to stay up to date on the latest trends and technology instead of just relying on a few things they already know. You'll often see an extra level of care and professionalism in properly licensed and certified businesses, which is extremely important. You need to be able to trust that your contractor knows what's best for your situation, and that's hard to do if they come off as unprofessional or unserious about their work.
For smooth and professional work, whether it's simple maintenance or a complete installation of a new system, you're always going to be better off with a licensed contractor. The only reason to operate a business without the proper licenses is to cut corners, and that's something you never want to see in a contractor. You want somebody who you can trust to do good work quickly and professionally, without trying to take advantage or skip over important steps. These things matter quite a bit, even if you have to pay a little extra.
Tips for Finding an HVAC Contractor
Once you've narrowed your list down to only properly licensed and certified contractors, you still have to figure out which one is best for you. Don't worry, we can help with that too. Here's a quick rundown of everything you should do to make sure you're getting the best possible service for your HVAC system:
Seek Referrals – This is a great first step for any contracting search. The best way to judge a business is by looking at its reputation, and asking your trusted friends and family is a great way to start. If there's a name that comes up multiple times, that's a great sign and you should investigate that company before the others. Make sure to ask older people in your life, like your parents. When most people find a contractor they can trust, they tend to stick with them for years and years, so asking longtime homeowners is a good start.

Read

Online Reviews

– While online reviews can be a little hit or miss, they're a great way to get a general sense of a company's reputation. You can usually ignore one-star reviews as they're often written by customers with a specific grudge, but pay close attention to reviews between two and four stars. You'll find that these are typically the most in-depth and even-handed ones.

Ask for References – Once you've narrowed your list down to a few businesses, give them each a call and ask for some references. As a general rule, any reputable contractor will have a large base of customers who are willing to talk about their performance. If a contractor refuses, that can be a red flag. After all, a business with a good reputation should have nothing to hide from potential customers.

Request a Bid or Estimate – Any half-decent contractor should be able to write up an estimate from just a thorough description of your problem. Generally, it's recommended to get at least three estimates before deciding on a company, but that's not a requirement. Again, if a contractor is unable to provide an estimate or refuses to put it in writing, this should be considered a huge red flag. Honest contractors will try their best to stick as closely to the estimate as possible, but disreputable places will try to run up the cost by weaseling out of a written estimate up front.
If you live in Sonoma, Marin, or Napa Counties and you're looking for a licensed, certified, and bonded HVAC contracting company, feel free to reach out to us at Valley Comfort Heating & Air. Our technicians are certified and have all the experience they need to take care of any HVAC needs you might have, and we're always honest and upfront about our work. If you'd like to get an estimate, or you just have some questions you'd like us to answer, you can give us a call at (707) 755-6951 or get in touch with us through our website.