If you do not know the difference between an HVAC license and certification, you are not alone. Most people are not aware of how different the two titles really are, and which one is necessary to pursue a career in HVAC.
In this article, we will look at the primary differences in an attempt to shed some much-needed light. The hope is that our readers will have a more concise understanding of the certification, what the license is, the importance of both, and how they can know whether the HVAC professional they hire has the necessary qualifications.
An Explanation of the Certification for HVAC
The HVAC technician certification allows one to acquire the necessary skills to operate as a technician. However, it is worth noting that operating in this sense does not mean that you can start your own HVAC service, since for that, you need the license as well. During studying to become a technician, one learns to understand and improve all aspects of HVAC systems.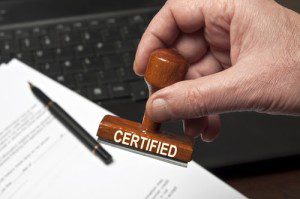 The certification itself requires a total of 210 hours of classroom instruction. These courses are completed within a five-year time window. The candidate must pay a registration fee and attain a minimum grade point average of 2.5 to pass, so if you plan on doing the certification, keep that in mind. Many colleges offering these certifications require candidates to have a minimum of either a high school diploma or a GED.
In terms of the type of certifications available to you, those who previously worked in the field beneath the wing of a licensed HVAC technician will enjoy a wider range of choices since they already have some experience. The program teaches students about temperature control, equipment design, equipment construction, installation, repair, etc. You will essentially cover everything from the basics to the more advanced material that will help you become an effective and reliable HVAC professional.
Those who pass the certification process will be able to build and modify systems in compliance with energy conservation standards. Upon completion, the HVAC technician will have the skills necessary to maintain, install and repair HVAC systems. His certification is formally granted with a printed certificate or an associate degree.
The Basics of the HVAC License
The HVAC license is obtained after an individual completes his training program and certification/degree, so it is fair to think of it as a form of post-graduate study. While this might simply seem like an unnecessary additional step, it is worth noting that most states require that candidates pass the licensing exam before they can work in the field to ensure reliability.
License candidates must be a minimum of 18 years old and must be fluent in English. All prospects must also have four years of warm heating experience, a part of which you should be able to accumulate while doing your certification. Those who meet the relevant criteria are provided with the opportunity to take an ICC examination. These exams are created by the International Code Council and administered at approved testing centers throughout the country.
Once the candidate passes the license exam and meets all the other requirements, he is legally eligible to work as an HVAC technician. Whether they choose to start their own business, work with friends or family, or work for someone else, is all an option.
Look for Both a License and Certification from Your HVAC Provider
While you might encounter many who will claim that they can help you with your HVAC systems, you should always double-check their qualifications. The last thing you want is for someone to increase the damage further and leave you having to get a qualified professional after the fact anyway.
Ask the people in question about their qualifications and proof thereof if you want to. There is nothing wrong with requiring reassurance from a professional – and those worth their mettle will never hesitate to show the proof.
Do not do business with HVAC service providers who lack either the HVAC certification or the license. Providers should have both credentials as this proves they have experience in the field and the necessary knowledge to help you with your problems. The best HVAC professionals will always be more than formally qualified and will certainly not ask you to 'trust' that they can do the job instead of sharing the information regarding their qualifications with you.
You should further note that the best HVAC professionals will remain up to date with the latest industry trends and will always try to further their knowledge where they can. Make sure your HVAC professional keeps informed and uses reliable technology.
If you have any questions about an HVAC license, or you want to learn more about our residential or commercial services for maintenance, repair or installation, reach out to us, and our professionals will help you immediately.