What should you do to prepare your HVAC system for summer or winter? Which questions should you ask when hiring an HVAC technician for a service? How should you get ready for an HVAC technician's visit to your home or business? These questions and others are all worth asking when it comes to creating an HVAC servicing plan. This post will explore some tips and strategies you can use to answer these questions, prepare for HVAC service cost, and generally be ready for your next HVAC servicing appointment.
Tip #1: Know when to call for a service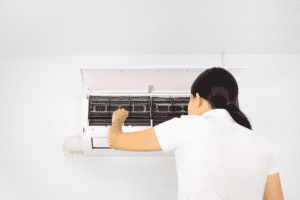 The best practice is to have your HVAC system inspected in both the spring and fall. A springtime service will help ensure that your system is ready for the hottest part of the year. An autumn service will do the same thing to prepare you for the cold months. If you want to avoid any possibility of a breakdown when you most need your HVAC system to be operating at full strength, this two-services-per-year strategy is your best bet.
Otherwise, you should always call an HVAC technician if you suspect there is something wrong with your systems. Minimal airflow from your vents, lukewarm air, a noticeable decline in interior air quality, or weird noises coming from your system are all excellent reasons to pick up the phone and call your local HVAC technician.
Tip #2: Know which questions to ask
Both before and after you hire an HVAC technician; you should have a list of questions to ask to ensure the best service. These questions include:
Pre-hire:
"Are you licensed and insured?"

"What certifications do you have?"

"Can you share references or reviews from past customers?"

"What services do you provide?"

"How long have you/your business been in this industry?"

"What is your average HVAC service cost?"
Getting a sense of your HVAC technician's qualifications, experience, and overall reputation will help you determine if the person or business is the right choice for your HVAC service. Doing some research into HVAC licensing and certification bodies ahead of time is a good idea, to familiarize yourself with some of the answers you might get to your questions.
Post-hire:
"Is my HVAC system in good shape?"

"Do I need to clean my ducts?"

"Are there steps I can take to improve the performance of my system?"
Your HVAC technician will check components of your system, from the furnace to the heat exchanger to the air conditioner motor to the filters. However, asking these questions will give you a bit of extra information. Especially if your system is nearing the 10-year mark, you might be nearing the point where you will want to consider a replacement. Your HVAC professional can give you some input about how close you are to reaching that point. As for tips regarding system performance, your HVAC technician might be able to recommend tactics like extra duct insulation or new energy-efficient windows.
Tip #3: Do your homework
In addition to asking questions about an HVAC company's certifications and customer reviews, it's also not a bad idea to spend some time on their website learning about their policies and values. Does the company offer free price quotes for installation or replacement work? Do they mention any commitment to customer service, communication, or transparency? Do they offer financing options for more expensive products or services? You should be able to find these details on an HVAC technician's website. Taking note of the perks and selling points for each contractor will help you pick the one that will give you the most value for your money.
Tip #4: Try to find a technician that does emergency calls
When you have an urgent HVAC problem in the middle of the night, you want to have a technician already on your speed dial who you trust to work on your system. You don't want to have to do a bunch of research online amid an HVAC emergency or call on a company with whom you are unfamiliar. Ideally, you won't ever need to make an emergency call. However, just in case you do, it's nice to know that you are already working with an HVAC company that does 24-hour service calls.
Tip #5: Make sure you are ready for the service call
Once you've scheduled an HVAC service call, take a few steps to make sure you are ready for the technician. Clear a path to your system, whether it's in the basement or the attic, and make sure that it is accessible and easy for your technician to reach. Write down the specific issues you've been experiencing—if any—as well as any questions you might have. These simple steps will help pave the way for an easy, stress-free service process.
Call Today to Ask about HVAC Service Cost and More
With these tips in mind, it's time to start your search for the perfect HVAC technician. To learn about certifications, HVAC service cost, and other vital details, pick up the phone and call your prospects today!