Manufactured housing is an increasingly popular option for individuals who wish to own a home, but for whom a traditional property is not ideal for one reason or another. With tens of thousands of new mobile home units shipped nationwide every year, and hundreds of thousands already occupied, many people find themselves facing some of the unique challenges that come from living in a manufactured home. Choosing the right central heat and air units for mobile homes is one of those challenges.
Today, better materials and engineering have made mobile homes more energy-efficient and insulated. In the past, however, mobile homes required much more heating and cooling capacity due to their poor design and weak thermal envelope. Choosing a unit that will deliver the ideal performance for a given unit, though, is still easier said than done. What are the essential things to know about this process?
Does the Mobile Home Already Have Suitable Ductwork?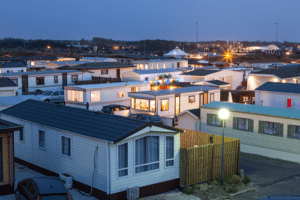 Manufactured housing units can vary considerably from unit to unit, both in terms of layout and internal construction. Some units do not contain suitable internal ductwork or do not have the room to add any; such units can immediately consider options such as split systems instead of central air. When ductwork exists as a factory standard, however, it is easier to consider a central air unit. With a compressor unit outside the home and an indoor unit with a blower fan connected to a thermostat, you can enjoy simple climate control throughout the entire structure at the push of a button.
In some cases, it is possible to add ductwork to make the use of a central air unit. In others, the ductwork installed for a factory standard furnace unit can serve a dual purpose, carrying cool air during the warmer months as well as long as it's properly sealed. When the necessary answers about ductwork aren't clear, consider asking a qualified HVAC contractor some questions.
Sizing Central Heat and Air Units for Mobile Homes
One of your key considerations when choosing central heat and air units for mobile homes will be size. That includes both the physical size of the unit itself and its cooling capacity, measured in BTUs per hour, or in some cases, tons of cooling. Though they once had a reputation for being highly inefficient at keeping conditioned air indoors, modern mobile homes are not as hard to heat and cool.
However, you must still take care to size the unit for the space appropriately. Remember, there is a physical limit to how much an air conditioner can cool a space especially during hot summer months. Therefore, an overpowered unit will only result in a higher electric bill, rather than a home that cools faster and stays colder. Likewise, though, an underpowered unit will also drive up your bills while working itself towards an early failure. Instead of digging through technical sheets yourself, speak to a service provider you can trust with sizing HVAC equipment for mobile homes.
Why Heat Pumps Are a Good Option for Mobile Home Heating
When it comes to heating a mobile home, gas furnaces are an option, but they can be overkill for all but the largest units. Gas is also the ideal choice in climates where winter temperatures can plunge deeply. However, in almost every other scenario, a heat pump will be able to offer an efficient and effective way to heat spaces. Since heat pumps are often packaged directly with air conditioners, it's easy to take advantage of their capabilities with an all-in-one system. Package units are highly cost-effective, too, in part because maintenance is more straightforward.
A "reverse air conditioner" is where a heat pump draws warmth out of the air outside and brings it indoors to warm your home. It is generally energy-efficient, and it remains effective down to about 45 degrees Fahrenheit. Below that, there is less heat for the unit to draw upon, and a backup electric resistance heater may engage instead. For mobile homes in hot climates with mild winters, electric central heating may be all you need to get through those rare cold nights of the year.
Seek Experienced Help When Choosing Central Heat and Air Units for Mobile Homes
With so many different options for central heat and air units for mobile homes, selecting the appropriate one can feel like a daunting challenge. Ensuring a good return on an investment in a manufactured home means making the most of what it can offer, and choosing the right HVAC system is crucial to long-term value. Depending on climate and budget, there are options today that can suit a wide variety of homeowners. From cost-effective split systems to traditional central heat and air, finding the right choice means connecting with qualified HVAC professionals nearby. Explore each option, consider annual operating costs, and enjoy a more comfortable mobile home year-round.