Ducts play an essential role in the HVAC system you rely on for comfort during extreme weather, but they need to be taken care of if you want to count on using it at any given time. Your HVAC is a sensitive system, after all—and a problem in the ducts can affect any number of other components in it very quickly. For that reason alone, it's necessary to keep the ducts clean. However, duct cleaning can also bring other benefits such as improved indoor air quality, better AC, furnace efficiency, and higher safety when running your HVAC. That said, not everyone understands their responsibilities when it comes to duct cleaning (and especially not when it comes to dealing with specialized or unconventional areas such as ductwork in the attic).
Fortunately, we're going to explain some essential information about duct cleaning so that you always know what to do and when to do it. By the time you've finished this article, you should understand exactly when to clean ductwork in the attic, as well as how to take better care of the rest of the ductwork in your home. We'll also provide some tips for hiring duct cleaners so that you can make smart choices whenever you need to call in the professionals.
Why is Cleaning Ductwork in the Attic Important?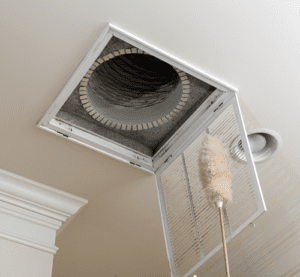 Allowing dust to collect in your attic ductwork (or any ductwork) is an unhealthy problem. Firstly, it will circulate throughout your house with the rest of the air in the channels, settling on furniture and appliances in other rooms and creating one heck of a mess. Secondly, it might end up settling in the ducts and creating a blockage that could eventually disrupt the flow of air in your system. Bear in mind also that attic dust can be even dirtier than dust found elsewhere in your home—so you don't want it in the system or any of the other rooms in your house.
Poor airflow is one of the leading problems in any HVAC system because it causes efficiency problems. Essentially, blocked ducts will prevent the treated air in the system from reaching the interior of your home. As such, the thermostat will fail to register any change in temperature, and the AC will continue to work harder, wasting energy, and wearing itself out while you wonder why nothing is happening. Regular duct cleaning prevents the likelihood of these problems from occurring, but it's mainly vital to pay attention to the attic whenever you arrange to have the ducts cleaned. If you do not, the ducts in your attic will be some of the most likely places in your entire system for a blockage to develop.
How Often Should I Clean My HVAC Ducts Under Regular Circumstances?
Once homeowners understand how vital duct cleaning is, most of them have one question: how often should it be done? The answer varies depending on numerous factors, such as the elevation and square footage of your home. Larger homes at higher altitudes typically need to have their ducts cleaned more often since the air is thinner at higher altitudes and more square footage means a larger network of channels where particles have more opportunities to settle. However, all homeowners are advised to arrange for professional duct cleaning every 2-5 years on average.
How Should I Choose Contractors to Help with My Duct Cleaning?
When it comes time for you to have ducts cleaned, you'll need to hire a contractor. Ideally, your chosen professional should demonstrate several characteristics that will show you they know what they're doing. Look for the following signs, and you should have no trouble hiring a skilled technician to clean your ducts:
Make sure that you hire contractors who are

duly licensed

to perform the work they offer. In California, a C-20 license is required for any work done on an HVAC that costs more than $500. Even for smaller jobs, it's worth hiring a licensed professional because a license lets you know that they have years of experience and have passed several standardized tests to measure their skills and knowledge.
Look for a contractor that offers duct-cleaning services explicitly. Many contractors will agree to do work if you provide it to them, but that doesn't necessarily mean they're confident or experienced in it. On the other hand, a company that directly provides duct cleaning is one that has probably done it many times before, and that is good enough to receive repeat requests from customers since they're still in business.
If you're not sure about a company's depth of knowledge, look at their blog. First-class HVAC service technicians always blog about their work because this reassures customers and provides them with useful information they can use between visits.
Cleaning the ductwork in your attic (and the rest of your home) is essential if you want to enjoy a functioning HVAC for many more years. Use this guide to hire competent contractors, focus on target areas, and enjoy cleaner air in your home throughout the year.
Check with us here at Valley Comfort Heating and Air, our customers love our attention to detail and our friendly, affordable service. (707) 800-6287