When was the last time you marked down "have the HVAC ducts cleaned" on the to-do list for your commercial property? If you aren't sure of the answer to that question, it's probably time to do just that. However, there are many other scenarios in which you should strongly consider seeking out a commercial duct cleaning company to provide you with this valuable service. From improving air quality and reducing the strain on your HVAC equipment to the many other potential benefits to be enjoyed from cleaner air ducts, there's no shortage of good reasons to enlist help in this regard. If you aren't sure when you should do that, though, there are some easy guidelines to follow to tell you that the time is right for a deep clean of your ducts.
When You Haven't Had the Ducts Cleaned in a Long Time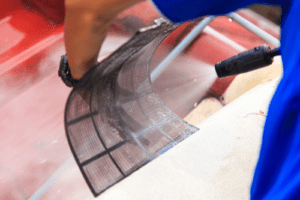 Although the recommendations created by regulatory bodies such as the EPA and trade groups such as the National Air Duct Cleaners Association (NADCA) vary, one thing remains the same between them: the recognition that most buildings will ultimately need some form of duct cleaning as dust, dirt, debris, and other airborne particles settle inside of them. NADCA, for example, suggests cleaning ducts out at least once every three to five years. For many businesses, this provides a useful general guideline. If you can't recall ever having the ducts cleaned, that's a sign on its own that you should schedule a consultation for an inspection of your ductwork.
When Building Occupants Complain About Symptoms
Could it be that the persistent headaches, runny noses, and call-outs in your office aren't related to a cold that's "just going around" but instead to airborne contaminants in your ducts? Exposure to mold may cause many of these symptoms, and it is possible for mold spores to settle and begin to grow within your ducts. When your HVAC system turns on, it can carry these spores to other parts of the building, triggering allergic reactions and making the space less desirable for working. Not only can this negatively impact productivity, but it can drag morale down, too. A commercial duct cleaning company can sanitize your ducts to ensure mold eradication.
When You Can See Built-Up Dust or Growing Mold
Speaking of mold, the ducts may not be the only place it appears. If you start to notice the growth of mold around air duct vents or on nearby walls and other surfaces, the spores likely originated within your ducts. Likewise, if you can see dust blowing out of ducts or accumulating on the vent fins, that indicates that there is an unhealthy amount of debris built up in places you can't see. Duct cleaners will use positive air pressure and specialized tools to ensure that they can expel these unwanted contaminants from your system while cleansing the ductwork itself.
When You Consistently Smell Foul or Musty Odors
Do you dread the sound of your heating and cooling system turning on because it means you're about to be confronted with an unpleasant smell? Odors emanating from your vents are not normal and should be considered a sign of fouled ducts. It could be the result of mold or mildew, or it may be the result of biological material accumulating somewhere inside the system. Don't try to "grin and bear it" — call for help instead to determine what is causing the odor and how to remove it for good.
When You Think Animals May Have Infiltrated Your System
In some areas and with certain buildings, incursions by urban critters are a persistent concern. Mice, rats, raccoons, and other small animals may find their way into your HVAC ducts or cause damage to them. In some cases, they may even live out their last moments in there before expiring — leading to very unpleasant odors and the potential for other biological hazards. If you have reason to believe animals may have threatened the integrity of your ductwork, reach out for assistance as soon as possible. Take steps to correct the damage and clean up any mess left behind by the animals for a healthier environment.
Time for a Cleaning? Connect with Experienced Pros for Better Results
After considering these scenarios, have you recognized that one of them sounds surprisingly like the situation in your commercial property? You know what that means: it's time to reach out to a commercial duct cleaning company for assistance. Using (an array of specialized cleaning tools) and the knowledge and experience accumulated over many jobs, the professional providers you choose can help to restore your ducts to as clean a condition as possible. Afterward, consider arranging a re-evaluation of the cleanliness of your ducts over the long-term. With proactive steps and assistance from the right professional team, you can continue to enjoy clean air throughout the working week.