Everything in life needs some form of maintenance in order to keep in top shape for as long a period of time made possible. Ac units require some sort of maintenance so they remain perking. Air conditioner repair is quite necessary because these units can do some pretty weird stuff. We all have probably experienced our fill of problems that occur due to lack of maintenance and repair. Think about having an air conditioner that blows no air. Is the unit fulfilling its purpose? How can this problem be resolved?
Let's be honest and not beat around the bush. we all know that lack of air can become a real problem and it can be especially irritating if your home has children and seniors. Now is definitely the time to reach out to a professional who can provide sound advice. You would need to get in contact with a technician so you can restore some normalcy to your living conditions. Before calling your technician, there are a few things you should attempt first.
Thermostat Checking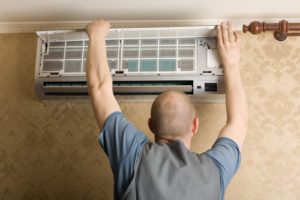 Although your thermostat may be appropriately regulated. It's wise to examine your thermostat about two or three times before you call your air conditioning professional. This might really be the trick in the hat. Proper regulation of the thermostat could be the solution to your problem.
Is the Circuit Breaker The Problem?

If the circuit breaker is the issue then you need to act fast. Before scheduling your emergency maintenance you should pay attention to your circuit box. Sometimes, your air conditioner can cause your circuit breaker to trip. So it is good to verify before calling a technician. Moreover, if your air conditioner is constantly tripping the circuit breaker then you may need an electrical repair. This would certainly protect you from other unwanted risks such as fire etc. Therefore, you should schedule your appointment with your electrical technician as well.
Here's How You Choose A Technician
It's difficult to survive without an air conditioner during a hot, sunny day or night, so why not find a technician that provides 24-hour emergency service so that you can be cooler much faster than you expect. This will certainly help alleviate some of the health problems associated with excessive heat. Contact Valley Comfort Heating and Air Conditioning for expert advice and maintenance. Why worry about AC related problems when we can safeguard you from having those sleepless nights, that occur due to lack of a working cooling system.