Living in Santa Rosa has numerous benefits, not the least of which is the warm weather that graces most days of the year. However, there are certain moments when the heat is just too much to bear. During those periods, an air conditioner is one of the most valuable items that anybody in Santa Rosa can own. HVAC systems provide area residents with the ability to cool off at any time, even on the year's most blistering days. However, there are specific responsibilities one must undertake when they become an air conditioner owner, including occasional air conditioning repair in Santa Rosa. Periodic repair keeps your system functioning efficiently, saving you money in the long-term and ensuring that your air conditioner will enjoy a long and productive life.
What many people do not understand about air conditioners is that they are made up of numerous interdependent mechanisms. Each one of the parts that allow your air conditioner to operate has the potential to affect other components of the system. These effects are generally positive, but in cases where a part is not performing correctly, they become adverse. It is, therefore, necessary to carry out air conditioning repair in Santa Rosa and other areas as soon as a problem is detected.
Don't Wait to Arrange Air Conditioning Repair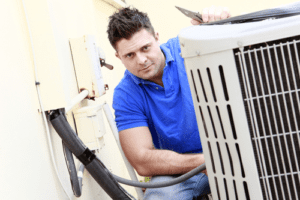 Some people believe that an air conditioner can be left alone for as long as it is still running in some capacity, but this attitude is rarely cost-effective. Instead of waiting until your entire system is on the blink and paying to replace most or all of it at once, it is always advisable to nip individual malfunctions in the bud before they have a chance to compromise other areas. For example, some homeowners might ignore a blockage in their ductwork as long as it doesn't completely prevent air from moving through the home. However, savvy homeowners will recognize that a blocked duct can prevent an adequate amount of air from reaching the compressor, causing it to freeze over and fail utterly. Not only will a new compressor cost you somewhere in the ballpark of a thousand dollars; you'll also pay more to use the system in the time leading up to the point where the compressor fails. Since reduced airflow makes the entire apparatus less efficient and causes it to use more energy than usual when cooling your home, regular maintenance is essential.
The above example illustrates just one way in which postponing repairs can have unintended consequences. However, the variety of situations in which equivalent results could occur is extensive. When you become an HVAC owner, the key is always to think long-term. The more obsessed you become with short-term savings, the more likely you will be to forego measures that could prevent expensive future catastrophes.
Choosing a Professional for Air Conditioning Repair in Santa Rosa
Knowing when to call for air conditioning repair is essential, but it is equally important to be able to choose a contractor you can trust to perform reliable work. When you need help with an AC problem, who should you call? The question can be vexing, but there are a few surefire ways to answer it for yourself. Look for the following criteria whenever you are considering a contractor for AC repair near you:
In California, a C-20 license is required by any HVAC contractor who performs work costing more than $500. A C-20 license indicates that they have passed several exams, and worked in the industry for at least four years as a journeyman or higher.
Do they have a respectable reputation in your local area?
Your contractor should be known to other area residents who can attest to their skill. Make sure you do your research and hire an established contractor who is known for performing quality work.
Do they offer long-term service contracts?
Long-term service contracts can save you considerable amounts of money. They ensure that the same professional will visit your home once or twice a year and look for signs of trouble in your system so that you can prevent problems before they cripple your air conditioner.
Are they familiar with the type of system you own?
Not all cooling systems in Santa Rosa are the same, so be sure to choose a contractor who understands the type of system you have and has worked on similar systems before.
Learn More about Air Conditioning Repair in Santa Rosa
Choosing professionals to perform air conditioning repair at your Santa Rosa home can seem complicated, but it's much easier when you know what to look for in a contractor. For more information on choosing a professional near you, call Valley Comfort Heating and Air and speak with one of our experienced representatives who can tell you more.
Check with us here at Valley Comfort Heating and Air, our customers love our attention to detail and our friendly, affordable service. (707) 800-6287