Even though the physics are the same, commercial and residential HVAC systems are a world apart. Choosing an HVAC system for a business is a much different task than selecting one for your home. Whether you must maintain a comfortable environment for shopping retail consumers or a much larger space for office workers, you must be able to purchase an installation that can meet high levels of complex demand day in and day out for a much larger space than a home. While a first glance at the market can leave you feeling overwhelmed, implementing a structured decision-making process will ultimately produce a helpful shortlist of cost-effective options for your business. Let's explore the steps to that process now.
Gather Data About Your Expected Usage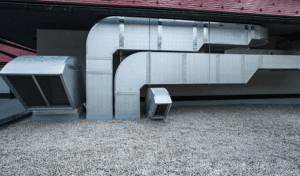 Understanding what it requires to heat or cool your building effectively is a good place to begin. If you are not installing a brand-new system in a recently constructed building, you should have access to some information about your currently installed systems. Look into the make, model, and age of your current unit, while also noting down any energy efficiency numbers placed on the unit itself, such as its SEER number or average expected annual cost. Next, look at the amount you paid for energy over the last year. Where possible, decide about how much your HVAC usage contributed to these costs. By understanding the status quo, you can establish a baseline to improve upon during your search.
Determine Where to Locate Your New Setup
Placement is a crucial consideration when choosing an HVAC system. Imagine: you find what seems to be the perfect unit with the right balance of energy efficiency and rapid heating or cooling capabilities. You focus on this unit and begin to make moves to purchase one, only to discover that it's too large to fit into any of the spaces in your business. Always investigate sizing and consider placement in consultation with an HVAC contractor before you make a purchase decision. Consider the benefits of adding rooftop units, for example, if you do not have space indoors. For less heavy-duty commercial HVAC requirements, split-systems may even offer the right choice.
Consider the Most Common Solutions
There's no need to reinvent the wheel. While commercial geothermal and hydronic solutions continue to attract attention, they often have high cost barriers to navigate while delivering results that may not satisfy someone used to regular HVAC technology. Instead of reaching for the most cutting-edge options, investigate the more common yet highly refined choices on the market. Package units, for example, are a very budget-friendly way for businesses to bundle both heating and cooling capabilities into one "package" — avoiding the need to purchase and install a furnace and an air conditioner separately. Learn about the most common types of commercial HVAC systems to better develop your understanding, and look for Energy Star certifications to easily identify better options.
Balance Cost with Efficiency
Now is an excellent time to learn about some industry terms, such as EER/SEER, which explain how a unit performs in typical conditions over a year or an operating season. Take care to understand how these numbers impact what you will pay for power. However, keep in mind that there are some diminishing returns at play. If you purchase a very expensive unit that is also very expensive, you may not make back your investment in savings unless you operate it almost continuously. Take your specific usage into account and speak to a professional about how to find a unit within your price range that can deliver energy savings on a reasonable timetable.
Inquire About Long Term Upkeep
Remember, what you pay for the unit up-front isn't the true lifetime cost. Instead, you'll also need to consider longer-term maintenance alongside the use of consumables such as filters, which you must change regularly. Before committing to buying a unit, ask your contractor for further details about expected maintenance or common problems that certain brands may experience. Consider signing a long-term service plan with a trusted provider to ensure that when you do encounter concerns or require an annual inspection, you can do so in a cost-effective manner. Regular maintenance ensures better efficiency.
Speak to a Professional Contractor About Choosing an HVAC System
At the end of the road, you should have a set of criteria to use in sifting through the many commercial solutions currently available. However, proceeding to the next step, such as installation, demands the assistance of trained and licensed professionals. If you are having difficulty choosing an HVAC system, a well-respected contractor is also an invaluable partner in helping to assess your requirements while suggesting solutions that fit within your budget. Spend the time necessary to locate and partner with a trusted air conditioning and heating company in your area, then let them know what steps you'd like to take. In no time, you, your staff, and visitors to your business will enjoy a comfortable environment year-round.