Entering the market for a commercial-level air conditioner means coming face to face with choices so broad and complex that the entire experience can feel overwhelming at first. With so many numbers and statistics flying your way, how can you realistically approach achieving your goals? Your AC should provide your business with a few things: comfort, clean air, and energy efficiency. Harmonizing these three elements can pose a challenge, but there are many ways to streamline your efforts to select a new unit. For example, you could benefit from examining the LEED energy efficiency standards.
The Leadership in Energy and Environmental Design standards make up an energy efficiency certification used to allow buildings to function with greater respect for the environment through better operational efficiency. Usually intended for new construction, LEED also has a program for existing structures. Whether you intend seeking LEED certification or not, considering its standards can reveal ways to narrow down your equipment options. By using a well-respected "green" standard as a blueprint for buying, business owners can more easily ensure their equipment purchases successfully balance comfort and consumption. What do you need to know?
Look for Units That Rely on Advanced Refrigerants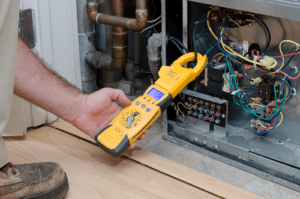 Refrigerants are the specially formulated chemicals that circulate inside your air conditioning units and act as the heat transfer medium for cooling the building. In the earliest air conditioners, water was the medium of choice, but it is not the most efficient choice possible. Over the years, many refrigerants have come and gone, often as a result of environmental concerns surrounding their impact on the atmosphere. Today, a new generation of refrigerant is beginning to hit the market. It's called R32 and deploying AC units that use advanced refrigerants can help to earn LEED points during certification.
Why does your refrigerant matter? There are two reasons. First, these new systems have fewer leaks and do not have as much of a damaging impact on the environment. Second, R32 has properties that allow it to absorb heat much more efficiently than current standard refrigerants. That translates to immediate and long-term savings thanks to a reduction in energy consumption.
Choose Units Compatible with Low Resistance Air Filters
Filters are vital components for air conditioning. Consider their many uses:
Improve indoor air quality by removing allergens at the return duct

Slow the accumulation of dust inside your ducts between cleanings

Prevent dust from gathering on critical AC hardware, which reduces its efficiency
With that in mind, it's easy to understand why you should stay on top of changing them every month or as needed. However, new filters hitting the market offer opportunities to gain LEED points and lower your energy bills. Made from cutting edge materials, "low resistance" filters allow air to flow more freely without sacrificing the ability to clean the air. Because the unit does not need to work as hard to pull air through the return, you'll save every month.
Consider Zoned Systems and More Granular Thermostat Control
Decentralized thermostat systems factor significantly into LEED considerations, and they should play a role in your considerations, too. When one thermostat controls the AC unit (or units) for the entire building, you must often use your full cooling capacity all at once — drawing lots of power. However, zoned systems paired with advanced VRF units, controlling the climate in specific areas of your building while leaving others alone is much simpler. As a result, the building needs less energy for cooling, and unit lifespans increase as they do not run as frequently.
Make Other Changes to Help Improve AC Efficiency
There are changes one can make to the building, too. "Cool roofs," for example, may contribute to earning LEED points while also serving to improve efficiency. A cool roof is simply an installation that uses materials or certain coatings and paints to reflect energy and avoid the retention of heat. By preventing warmth from infiltrating the building in the first place, the AC will not need to run with the same frequency. At the same time, examining your ventilation solutions may produce gains for your unit as well. A more thorough consultation about LEED certification can reveal additional strategies for making changes that indirectly affect HVAC energy consumption.
Want to Get LEED Certified? Seek Professional Assistance First
Ultimately, the ideal way to procure the best equipment for your business is to connect with a trusted supplier and installer working in your region. For those interested in adopting an LEED certification, connecting with a qualified commercial HVAC contractor may be an essential first step; a considerable portion of the LEED rubric remains dedicated to heating and cooling improvements. There are other elements to consider but beginning with an overhaul of the most energy-intensive aspect of typical operations makes for an excellent starting point. Delve into the details now or find pros who are ready to help.