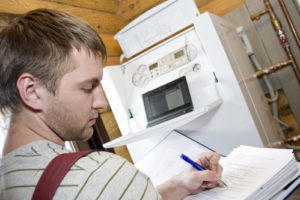 When you run a commercial business, you have an important responsibility—not just to your customers, but to your staff as well. You have to keep them compensated, motivated, and comfortable if you want them to keep doing their best at work. Comfort is one of the most important aspects of a productive work environment, so make sure you've set up a workplace that supports the people you employ. One area you won't want to overlook is climate control—specifically, your air conditioning for when the weather becomes hot.
Your business probably already has a commercial air conditioner, but consider this: how often do you have a professional service technician come in and work on it? If the answer is less than once a year, you might be in trouble. Some people are reluctant to seek out professional help for their commercial air conditioner because they assume that it's going to be expensive. However, waiting a long time between service calls can be counterproductive when you're trying to save money and may result in expensive commercial air conditioning repair.
The reason for this is simple: your air conditioner needs regular service to deal with wear and tear before it causes larger problems. Air conditioners aren't simple machines; they're complex systems made from many sensitive parts. When any of those parts wear out, it affects every other part of the system. If a small malfunction doesn't stop your air conditioner from working entirely, it can still force the rest of its parts to work harder in compensation for the defect. As a result, the rest of those parts can wear out faster than usual, causing widespread issues and eventually crippling key components. If you want to avoid problems like that, your best bet is to take a proactive approach to your commercial air conditioning repair. A combination of preventative maintenance and regularly scheduled service calls can prevent small issues from growing into giant and expensive ones.
What is Preventative Maintenance?
Preventative maintenance refers to numerous small tasks you or your regular janitorial staff can take on to keep your air conditioner healthy. Most aspects of preventative maintenance are quite simple, and while they typically won't fix existing damage, they'll prevent damage from occurring prematurely. Furthermore, many preventative maintenance duties can be performed without a high level of skill or knowledge about air conditioners. As long as you're capable of using a screwdriver and walking around, there's a lot you can do to keep your commercial air conditioner in good condition.
Commercial air conditioners are more complicated than those used for residential purposes, so you won't be able to do quite as much by yourself when you're working on a commercial system. However, it's still easy enough to change the filters on your unit, which you should do at least once a month to prevent buildup from affecting your air quality and circulation. Poor circulation can force your system to work harder than it needs to, and often results in compressor failure. A new compressor usually costs more than $1000, so that's something you want to avoid. On the other hand, new filters are well under $20, which makes filter replacement more than 50 times cheaper than the problems it prevents.
Look for the Problems You Can't Solve, Too
Being proactive also means keeping an eye out for problems you can't solve on your own. To do this, you'll want to look for several signs that can indicate serious commercial air conditioner trouble. The most visible sign should be rising utility costs. If it's costing more to heat or cool your workplace every month and your habits haven't changed, then there's a good chance your system is becoming less efficient due to a malfunction. If you can access your HVAC by yourself, your next step should be to examine the indoor unit for any noticeable leaks or strange noises. If you can't, ask your custodial staff whether they've noticed any of these symptoms.
If you're experiencing leaks, strange noises, or a burning smell in your workplace, your HVAC probably needs professional service. The most important thing to remember in these situations is that the longer you wait, the more severe the problem will likely become. As soon as you notice any of these symptoms, call a licensed professional to take care of them before they become any worse. Some service companies even offer service contracts for commercial businesses. You'll pay them a yearly fee to have them visit your premises once or twice a year and nip problems like these in the bud.
AC repair of any kind is always better arranged sooner rather than later. Take diligent care of your system, keep an eye out for telltale signs of trouble, and make sure you don't wait before calling for help with problems when they make themselves apparent.
Check with us here at Valley Comfort Heating and Air, our customers love our attention to detail and our friendly, affordable service. (707) 800-6287