Anyone who lives in Santa Rosa knows that it's a beautiful place all year round — though when summer gives way to fall, and eventually winter arrives, the mercury can plunge. As you reach for a heavier jacket, you might want to reach for the thermostat to switch on the furnace, too. Whether you've got an older furnace that needs replacement or you're simply in the market for a new home heating system, you have a big decision ahead of you. The good news: average winter temperatures in Santa Rosa don't fall too far, and you don't have to worry about a weather event such a blizzard. However, energy-efficient home heating systems that can supply your whole house with heat as necessary are still important.
Considering home heating systems based on property size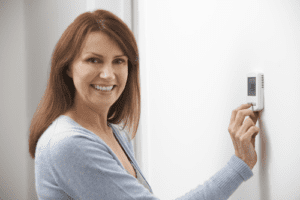 Home size is a crucial factor in selecting home heating systems. Some setups will not have the power of efficiency to deliver effective heating to larger spaces, while choosing a system that is overly powerful for a smaller dwelling can lead to wasted energy and higher bills. The property's existing infrastructure makes a difference, too, if you are not making considerations for a new build. Does your home already have the necessary equipment for a forced air system?
If so, considering a boiler or other system that uses heated water to impart radiant heat beneath a floor or within radiators is not wise. The cost of changing over to another type of system can be expensive and is typically not worth the effort compared to finding equipment that works with your home's existing setup. With that in mind, the leading choice facing Santa Rosa residents' concerns whether to choose a gas-fired or an electrically powered furnace. Each comes with pros and cons of their own, but either one will provide adequate heating for the mild winters Santa Rosa experiences.
Should you use a central furnace or a heat pump?
As you explore both electric and gas heating options, you will find that there is a wealth of diversity regarding choices. Depending on the space to be heated, you may face a choice between a gas/oil (or electric) furnace and a "heat pump" unit. The former is the type with which most people are familiar, and today's fire-based units can be very efficient compared to older units. However, they are best suited for larger homes with higher heating requirements to take advantage of this efficiency. For homeowners in Santa Rosa who like to turn the heat on as soon as it gets cold and leave it steady, this can be the best choice. However, it does come with added annual maintenance requirements.
A heat pump is typically part of a two-in-one combination. In other words, they are a part of an air conditioner. During the wintertime, heat pumps run the reverse cycle of an AC, pulling heat out of the air (or ground) outside and bringing it indoors. Since Santa Rosa rarely experiences deep freeze temperatures, heat pumps can maintain better efficiency and can deliver adequate heating within your space. Bundled with your AC, they are easier to maintain and don't encounter the same problems as a gas furnace. However, for a large dwelling, heat pumps can struggle to warm the whole space — so considering options carefully is a necessity.
What if you don't have ducting?
While most modern homes were built with central air in mind, you may occupy a home that does not have any. Adding ductwork can be a massive expense that's not worth the outcome. It does not mean you have to rely exclusively on small space heaters, however. Mini-split heat pumps do exist, and they can be used to create warm spaces in individual rooms as necessary. For apartments and other smaller homes where you won't need large-scale heating, mini-split systems can be an economical and efficient choice. As a bonus, a mini-split system means never having to worry about the need for duct cleaning services as one does with forced air.
Making the right decision for your home
Whether you know precisely what type of system you'll need or you still have questions, speaking to a professional installer should be your next step. Not only can a professional give you a reliable quote on how much installation will cost for a variety of home heating systems, but they can help to point you in the right direction. By working alongside you to assess your home's current setup (such as the availability of ductwork) and overall size, identifying the best solution becomes much easier. Contacting the pros should, therefore, be your next step. From there, it won't be long until you have a brand-new system in place ready to keep you warm and toasty the next time a cold snap approaches.