Central air has been the standard for businesses for several decades. Many businesses rely on it for its simplicity, ease of maintenance, and effectiveness at counteracting the heat of summer days. However, commercial ducted air conditioning is not necessarily the perfect system for your business. Keep reading below to learn the key points of ducted air conditioning and make an informed decision regarding your business's cooling needs.
How Ducted Air Conditioning Benefits Your Business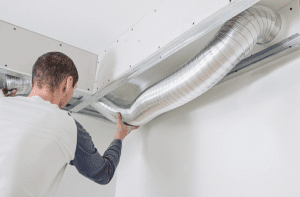 There are several significant benefits to ducted cooling systems that make them ideal for many businesses:
Achieve rapid building-wide cooling. Even in the hottest months, a robust ducted system can create comfortably-cool rooms throughout your building. During installation, you can also ensure that certain rooms, such as large vestibules and entryways, receive additional coverage to counteract the heat that will continuously enter the building.

Manage each room independently with a cooling system that incorporates room controls. This way, you can

reduce the amount of energy spent

cooling areas that aren't used as frequently, such as storage locations. Let your system focus on those parts of your building that require the most consistent cooling to keep your costs low and maximize your system's effectiveness.

Combine your heating and cooling into a single forced air system so that you can split the cost of ductwork between both functions. The same ducts that move cool air can just as easily move warm air, and this can reduce how complicated your system's maintenance will be.
While different systems are better suited to different environments, ducted air conditioning provides a flexible solution for nearly any cooling need. Consult with reputable HVAC contractors to determine if this kind of system offers the best solution for your business.
The Questions to Ask Before a Commercial Ducted Air Conditioning Installation
You don't have to go it alone when it comes to installing and tending to your commercial ducted air conditioning system. If you've selected a customer service-oriented HVAC contractor, they'll continue to work with you through the design and installation to answer any questions you have, such as:
How powerful should my commercial ducted air conditioning system be?




The answer to that is unique to your building and how you use it. Your contractor will assess what your anticipated usage needs will be, consider the environment and sun exposure that your building receives, and calculate building load before proposing a practical solution for your business.




Is there any benefit to using alternative cooling systems such as a heat pump?




Generally, those systems are effective in the right circumstances. However, many businesses, especially in urban settings, lack the proper conditions to take advantage of such systems. Due to the compact nature of urban buildings and environmental exposure, you may need to rely on strength rather than efficiency.

Is it expensive to install a new ducted air conditioning system?




It can be expensive depending on your building layout, but once the ducts are installed,

installation or replacement costs are relatively low

. Many buildings already have ducts due to how common duct-based forced air heating systems are, so your installation may be as simple as installing a new central unit to manage both heating and cooling.
How to Properly Maintain Your Ducted Air Conditioning System
One of the benefits of installing commercial ducted air conditioning systems is that the maintenance remains relatively simple. Most of the mechanical parts are in the central cooling unit itself, so there are minimal steps that you need to take to keep the system running properly. Nevertheless, as a business owner, you should always ensure that you're keeping your system as clean as possible.
One part of that is ensuring that your air filters are regularly changed. While the actual need to replace these will vary depending on air quality, we recommend setting up a schedule so that they are always fresh and highly-functional. You can create a maintenance checklist for your staff to conduct that includes switching these filters monthly. It's essential to ensure that your staff knows where each of these filters is, as they are often located behind the return grilles.
The second part is scheduling routine maintenance on the system itself. Generally, centralized systems remain in working condition for years without significant faults or need for repairs. If you schedule an annual checkup, you can prevent many major issues before they happen, which can save you a lot of money. Additionally, you should schedule duct cleaning every year or two to avoid buildup that both reduces system functionality and lowers air quality. Aside from these maintenance items, your system will only need attention if something goes wrong.
Using a Commercial Ducted Air Conditioning System Effectively
The best part about the commercial ducted air conditioning system is how easy it is to use it daily. You can adjust the temperature easily through a panel, and many systems allow you to take advantage of automation technology to control them remotely. You should contact a reputable HVAC contractor for additional information if you have questions regarding how effective the system is for your business.