Owning an air conditioner can be the saving grace that turns your Napa home from a sweatbox into an oasis, but you have to make sure your AC is always running correctly if you want to enjoy the benefits it provides. For that reason, you will sometimes need to hire professionals to perform maintenance and repairs on your cooling system. However, it can be difficult to determine exactly when you need an AC repair contractor, and when you can take care of a problem by yourself. Furthermore, not all AC repair contractor options in the Napa area are alike, and some may offer services that are better suited to your needs than others.
The good news is that a little information can go a long way towards helping you understand your needs. At Valley Comfort Heating and Air, we have spent many years studying various HVAC systems throughout Napa and the surrounding areas, which has given us plenty of insight into common problems and their most efficient solutions. In this brief guide, we'll go over the red flags that should tell you when you need an AC repair contractor, as well as some critical tips for how to choose a professional you can trust. Read on, and find out how you can improve your AC service immediately.
When Do I Need an AC Repair Contractor?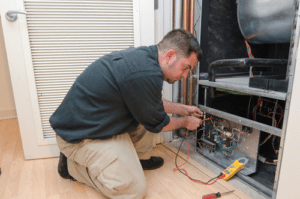 There are some AC issues you can solve by yourself with relative ease, but others require a more experienced professional touch if you want to deal with them decisively. We'll begin by examining some common problems with simple DIY solutions, then move into areas where having an AC repair contractor is a must.
DIY: checking and cleaning your air filters. The filters in your air conditioning system play an incredibly vital role: they make sure the air circulating throughout your home is clean and fresh. However, as your filters catch bacteria over time, they will become dirty, and will eventually need to be changed. Fortunately, changing the filters on your air conditioner

is an easy task

, and can usually be accomplished in just a few minutes. You should make sure to exchange the filters on your air conditioner at least once a month during periods of use.

DIY: clearing debris away from your outdoor unit.

Your outdoor unit moves air into your home via a blower fan and a series of ducts. However, if the area around your outdoor unit is clogged or blocked, it can prevent air from entering the building properly. What's more, the air that

does

enter the building may be of inferior quality, negatively impacting the wellbeing of inhabitants. There's not much you can do by yourself about objects lodged deep within your ductwork, but you can certainly prevent many of them from getting in by taking regular walks around your outdoor unit and moving nearby debris two or three feet away from it. Try doing this every weekend during peak season for best results.

Contractor required: anything to do with refrigerant.

Refrigerant is the chemical that allows your cooling system to effect changes in the atmosphere of your home. By changing state between liquid and gas,

refrigerant causes chemical reactions

that either absorb or produce heat, thereby changing the temperature of the air around it. That air is then circulated through your ductwork, improving air quality and comfort for residents of the building. However, the refrigerant is also a potentially toxic chemical that should only ever be handled by licensed professionals. If your air conditioner is leaking coolant, you will need a contractor to patch up the problem and recharge the levels.

Contractor required: matters pertaining to ductwork.

Your ductwork allows air to travel through your home, so it is essential for healthy HVAC performance. Ducts are fairly simple mechanisms—they're essentially just metal tubes. However, accessing ducts, cleaning blockages out of them, or patching up leaks is outside the realm of most people who are not licensed professionals. Since impeccable ductwork is vital to the efficiency of your system, you should always make sure your ducting is done by a qualified contractor.

Contractor required: electrical work and replacement parts: your air conditioner involves numerous complex mechanical parts, including the compressor, evaporator coils, and various motors. If any of these components break, you will need to call a professional to fix or replace them. However, most HVAC systems have electrical parts as well as mechanical ones. Never try to repair an electrical malfunction by yourself—

always

call a licensed contractor, who will refer you to an electrician if the problem is beyond their skill.
A Final Note on Choosing an AC Repair Contractor
You will invariably need an AC repair contractor at certain points in the life of your air conditioner, so be sure to hire licensed professionals whenever you do. A license guarantees that your contractor comes with the experience and skill necessary to perform valuable work. For more information on choosing a contractor, contact Valley Comfort Heating and Air to speak with someone on our staff. We'll help you learn everything you need to make an informed choice about your cooling.
Check with us here at Valley Comfort Heating and Air, our customers love our attention to detail and our friendly, affordable service. (707) 800-6287