A good home heating system is a necessity during the winter months when even the warmer parts of the country can experience cold temperatures at night. However, while a home heater can be a lifeline during these chillier parts of the year, it can also be a safety risk. The winter months are always the top months for house fires in the United States, and house heaters are responsible for many of those blazes. To avoid the threats to life and property that a house fire can bring, be sure to take these 10 precautions with your home's heating system.
Have your furnace inspected regularly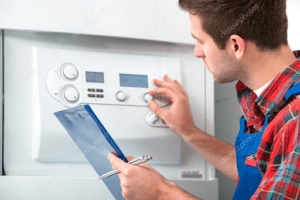 At a minimum, you should have your furnace inspected by an HVAC professional every other year. You can enjoy extra peace of mind by scheduling an inspection annually, right around the start of the autumn season. As your system grows older and passes the 10-year mark, you won't want to go more than a year between inspections. Your HVAC inspector can identify any problems with the system, provide maintenance and services where necessary, clean out the ducts, and generally keep your system in good working condition.
If you are going to have fires inside your home, whether in a fireplace or a wood burning stove, you should have a list of best practices from which you never deviate. For instance, use a diffusion screen with your fireplace to prevent logs from rolling out, and keep a three-foot berth between your fireplace/wood stove and anything that can burn.
Inspect and clean your chimneys
Another responsibility you have to accept if you are going to have indoor fires is chimney maintenance. According to the National Fire Protection Association Standard 211, all chimneys, fireplaces, and associated vents require inspection at least once a year. These inspections can identify obstructions and let you know if cleaning or some other form of maintenance is necessary.
Clean and vacuum your furnace room regularly
A furnace needs to be well-ventilated to work correctly. Dust, dirt, lint, and other debris in the furnace room can limit the system's access to oxygen, impairing your home's air quality and creating a fire hazard. Vacuuming and cleaning your furnace room as regularly as you clean the rest of the house will help you avoid these hazards.
Keep flammable items away from the furnace and other house heaters
Speaking of your furnace room, it's also important to keep it free of other fire hazards. Many furnace rooms are in the basement, where they double as laundry rooms or even storage rooms. It's okay to have a washing machine and dryer a few feet away from your furnace, but you don't want boxes, furniture, carpets, rags, hanging clothes, or other potentially flammable items close to your furnace. The same general rule applies to other house heaters as well, from space heaters to boilers.
Don't leave space heaters running unattended
Ideally, you won't need to use space heaters in your home. It would help if you worked with your HVAC professional to ensure a system that heats your entire house effectively and consistently. If you are having problems with your heating system, though, you might need to resort to space heaters as a temporary stand-in. Where possible, don't run these systems unattended. Don't leave the house while they are running and turn them off before you go to sleep. Space heaters aren't meant to provide the same level of safety or reliability as house heating systems, which means you need to take a bit more care with their use.
Inspect your water heater and boiler, too
Your water heater has a heating element, too, which means it counts as a home heater. This system can fail, so having it inspected every few years to assess its condition is a smart precaution. The same goes for other heating systems that your home might have, such as a boiler.
Replace air filters and furnace filters
As we said earlier, a furnace needs fresh air to operate correctly. A dirty air filter or furnace filter can impede this air flow and cause performance problems (or even breakdowns) with your furnace. For safety, performance, and indoor air quality, make a point of switching out your air filters every two or three months.
Change the batteries in your smoke detector
You can do many things to make your home's heating system safer. Just in case something goes wrong, though, make sure you have a failsafe. Your smoke detectors can serve this role and provide your family with a chance to escape a burning house. Check the batteries in your detectors regularly to make sure they are ready if/when you need them.
Use certified technicians to service your heating system
Don't trust just anyone with the inspection or maintenance of your house heaters. Instead, make sure you are working with a qualified and certified HVAC technician. At Valley Comfort Heating and Air, our NATE certified technicians know how to provide the services you need in a thorough, safe, and effective fashion.