When you live in a place like Santa Rosa, you'll need to make sure you always have adequate climate control. Temperatures in the Santa Rosa area are frequently pleasant, but it too can be subject to uncomfortable levels of heat or cold at specific times of the year. As such, most Santa Rosa residents invest in heating and cooling systems of some kind. You may be wondering what type of system is suitable for the home in which you live. For people with a mobile home, a heat pump may seem intriguing for numerous reasons. However, it is worth learning more about this technology and its applications before you decide to purchase a heat pump for your mobile home so that you can be sure you are making the right decision for yourself and the rest of your household.
Before you decide on a mobile home heat pump, you should probably learn a little more about the other options available to you. Many people mistakenly assume that their choices of heating systems will be more limited if they live in a mobile home, when in fact mobile homes offer many heating choices. Below, we'll look at a few of the most common systems people use to heat their mobile homes in the Santa Rosa area, then examine how heat pumps compare to the rest.
The Mobile Home Heat Pump vs. Other Heating Methods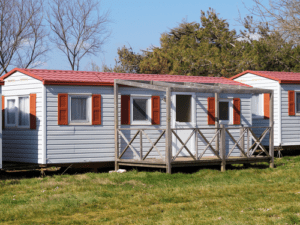 Many choices are available to mobile home owners who want heating systems in their dwellings, but how do they compare? Here's a breakdown of several popular choices:
Gas furnaces: gas furnaces burn natural gas to heat air, then use a blower fan to move that air through the ventilation system in your home. Most gas furnaces are small enough to fit in closets, which makes them convenient in mobile homes. They are also quiet, which ensures that they will not distract inhabitants of the home while running. Gas heaters need to be well-maintained if you want them to work correctly, but as long as they are well taken care of, they are usually quite energy efficient.
Electric furnaces: electric furnaces are similar to gas furnaces in that they use a blower fan to move heated air throughout a system of ducts and into the various parts of your mobile home. The most significant difference is that these systems use electricity instead of burning gas to heat air. Electric furnaces usually require somewhat less maintenance than gas furnaces, and on average have lower purchase points. However, they also tend to be less energy efficient, which means that they may be more expensive to operate in the long run.
Biofuel stoves: biofuel stoves produce heat in one of the oldest and most established ways ever: by simply burning wood. However, there are also multi-fuel stoves available that can be loaded with seeds, grains, and even fake logs to produce heat in more environmentally-friendly ways. Burning organic material to generate heat is becoming increasingly popular in Canada and the US, but it can still be challenging to find and purchase an efficient stove. What's more, you'll have to install a chimney, which can be a significant cost and a source of inconvenience whenever it needs cleaning.
How Heat Pumps Compare to the Options Above
Heat pumps differ from the systems above in several meaningful ways. For one thing, they are capable of both heating and cooling homes, which makes them more efficient and less costly to operate than other models. This is because heat pumps operate by "exchanging" cool air from outside your house for warm air inside it during the summer, and vice-versa in the winter.
Despite this seemingly obvious advantage, heat pumps do come with certain limitations. For example, their ability to exchange heat from outside for the cooler air in your home is of limited use when the air outside happens to be freezing. Heat pumps do not function particularly well at temperatures of below 35 degrees Fahrenheit, which is why many of them come equipped with heating coils to supplement heat production in the dead of winter. Be advised, however, that relying on these supplementary coils is typically less energy efficient than just using a conventional HVAC system with an electric or gas powered furnace. Because of this, many homeowners in the northern parts of the United States avoid the use of heat pumps in favor of traditional boilers.
Is a Mobile Home Heat Pump Right for You?
A mobile home heat pump can be beneficial if your home happens to be located in a warm or balanced climate and you do not travel to colder reaches often. If, however, you are searching for a climate control solution capable of providing efficient comfort during the coldest nights of the year in Santa Rosa or other, more temperate regions of California, you may wish to opt for an HVAC instead. Just be sure that you know of Santa Rosa professionals who you can call whenever you need service. For more information on the work we do, call Valley Comfort Heating and Air and speak with one of our professionals.
Check with us here at Valley Comfort Heating and Air, our customers love our attention to detail and our friendly, affordable service. (707) 800-6287