Whether you're launching your first business or replacing the HVAC system in your commercial building for the first time, you might find yourself asking this question: how much does a commercial HVAC installer charge? Perhaps more accurately, will you pay more for a commercial HVAC installation than you would for a residential HVAC installation? If so, how would that cost difference look?
These types of questions are natural, if only because most people are far more familiar with the costs of residential HVAC installation or service than they are with any facet of commercial HVAC. However, if your strategy is to use your experience with residential HVAC costs to estimate how much a commercial HVAC installation might cost, you should know this: commercial HVAC services almost always cost significantly more than domestic HVAC work.
Why Is Commercial HVAC More Expensive Than Residential HVAC?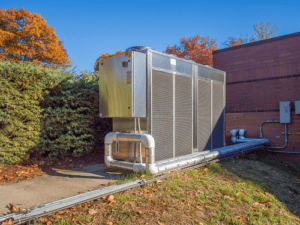 On a fundamental level, a commercial HVAC system does essentially the same thing as a residential HVAC: it heats, ventilates, de-humidifies, and cools the space. The difference is in the type of space that is being heated or cooled. While there are certainly some substantial homes (and some tiny commercial buildings), an average-sized commercial space is usually considerably larger than an average-sized residential space. This extra square footage—as well as the typically wider-open spaces that make up commercial buildings—requires a different approach to HVAC than what you would use in a residential setting.
For one thing, commercial HVAC units are usually much larger, heavier, and much more challenging to transport and move around than their domestic/residential counterparts. Most houses use comparable HVAC units, which are installed near the exterior of the home and are roughly the size of other household appliances such as ovens and dishwashers. These systems are not heavy, large, or unwieldy, which simplifies installation and leads to lower HVAC installation and setup costs. Conversely, commercial HVAC systems span a much more extensive range of sizes. Sometimes, these systems are customized specifically to suit a specific commercial building. The added size and complexity pose extra challenges in delivery, installation, and configuration, which leads to a higher billing rate from a commercial HVAC installer.
It's also worth noting that the added complexity of a commercial HVAC system's design—as well as the need for customization for individual businesses—also adds cost. Even before you can think about installation or setup, you need to budget for the purchase of the system hardware itself. These costs will be unanimously higher than what you would pay for even the most robust residential HVAC system.
Other factors add to the cost of a commercial HVAC installation, as well. For example, the added complexity of these systems is not relegated solely to the unit itself. Most commercial HVAC systems, because they are heating and cooling larger spaces, also require more climate "zones" and more thermostats. Setting up these zones means extra work and additional installation time for HVAC installers, which means a higher labor bill for the end-user.
The location of commercial HVAC systems can also add to the cost. As mentioned above, the average residential HVAC setup utilizes a unit that can be installed right outside the exterior wall of the home. There is limited difficulty in getting the proper equipment to this spot, which is undoubtedly a factor in the affordability of residential HVAC installations. If you are planning a commercial HVAC installation, you don't have the same luxury. Most commercial systems are installed on the roof of the building, which presents added logistical difficulties for the delivery of equipment. If you're replacing an old, outdated commercial HVAC system, this logistical hurdle goes both ways, as you must disassemble and remove the old system before installing the new one. All these processes add to the time and cost of commercial HVAC installations.
Get a Professional Quote from Your Commercial HVAC Installer
The bottom line is that your experience with the costs of residential HVAC system hardware, installation, and ongoing servicing only have so much relevance when it comes to commercial HVAC matters. Indeed, commercial systems also usually carry considerably higher service and maintenance costs than residential systems, for all the reasons already mentioned. Finally, since you're heating or cooling a larger space, you will also bear markedly higher monthly utility costs for a commercial HVAC system than you would with a residential HVAC system.
The good news is that the cost of hiring a commercial HVAC installer doesn't need to be a mystery. Any reputable HVAC company should be willing to sit down with you to discuss your project, learn about your needs, and provide a free, zero-obligation price quote for the project. While you can find price estimates or ballpark ranges for the cost of commercial HVAC installation by going online, there are so many variables affecting price (building size, number of zones, whether you need a custom system, etc.) that you are better off getting a quote for your project specifically. Provided you can find an HVAC technician whom you trust to prepare an accurate quote—and then stand by it when the project concludes—you should have no problem budgeting for your commercial HVAC installation.